False Confessions | Review
Fair is False and False is Fair: Bondy's Final Conquest Collapses Theatrical and Cinematic Convention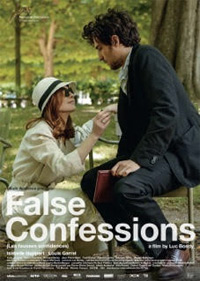 Cinematic adaptations of 18th century French novelist and playwright Marivaux remain few and far between, despite his legacy as one of the most renowned literary figures from the enlightenment period, often in the comedic tradition of Moliere. Allusions to his influences seem to inform the periphery of French language cinema (as in two of Abdellatif Kechiche's films, Games of Love and Chance and Blue is the Warmest Color), but rarely do we see a new take on his material.
Swiss stage and film director Luc Bondy, with the help of wife and partner Marie-Louise Bischofberger, mounted one of Marivaux's most famed plays False Confessions (Les Fausses Confidences) for what would be his final production after succumbing to pneumonia in November, 2015. Nearly a year later, his filmed version of Marivaux's comedy would premiere at the Locarno Film Festival, a lighthearted romantic comedy about goading someone to fall in love through carefully plotted deception. Bondy shot the actors during the day while the same stage production went on at night in 2014 at the famed Odeon Theater in Paris. Playful, bizarre, and unabashedly theatrical, choice casting and an inescapable aura of finality imbues this curious last testament from Luc Bondy with an underlying streak of melancholy.
Dorante (Louis Garrel), a young man from a good family, has been met with financial ruin. Seeing his previous employer's plight, Dorante's former valet, Dubois (Yves Jacques) and realizing Dorante is also in love with Araminte (Isabelle Huppert), a rich widow who now employs him, he convinces Dorante to apply to be her secretary and use his connection as the nephew of her family lawyer, Monsieur Remy (Bernard Verley). Araminte is quite taken with the handsome young man, though he doesn't seem the right fit for a secretary. However, Araminte's personal servant Marton (Manon Combes) also finds him handsome, and so arrangements are not only made for his employment, but Remy also suggests his nephew marry Marton. Meanwhile, Araminte is in a bit of a bind herself, having been ordered by her domineering mother (Bulle Ogier) to marry Comte Dorimont (Jean-Pierre Malo) as a means to avoid an ongoing legal battle concerning a piece of land between both parties. However, as Araminte suggests and Dorante confirms, the legal documents don't support the necessity of such a union.
Undoubtedly, Bondy capitalizes considerably on the unbridled strengths of his lead Isabelle Huppert, who plays Araminte like a spoiled, semi-virginal aristocrat. We meet her as she exercises languidly on a prodigious stone veranda, full make-up and white silk pajamas for her outside routine. Fruitless exercise seems to be one of Araminte's motifs, as Bondy scores his greatest sight gag by showcasing Huppert, dressed in a shiny gold lamѐ outfit, strolling on a treadmill while Garrel's mournful secretary gazes upon her, apparently enthralled. The casting of Garrel as Araminte's secret suitor carries with it strange baggage indeed, considering the two performers played incestuous mom and son in Christophe Honore's infamous 2004 adaptation of the Georges Bataille novel Ma Mere. However, the outré energies of their earlier pairing is nowhere to be found in this sterilized outpouring of mixed messages and confounding alliances all meant as an effort to align Araminte's oblivious heart with Dorante's yearning (a union which also has significant monetary gain for him, of course).
Whatever enjoyment can be culled from another Huppert/Garrel duo, the real (and ever so brief) pleasures tend to come between the women, particularly Huppert alongside another French icon like Bulle Ogier, here as her bespectacled mother who is always accompanied by attendants (lovers? playthings?) while she demeans her daughter's unwillingness to marry Dorimont and hire a man like Dorante, who is clearly not suited for the role of a secretary. Situations are compounded by Araminte's personal servant Marton, who also has designs (or is convinced she has them) on Dorante, which leads to another amusing sequence over an intercepted framed portrait of the woman who the young man pines for (we haven't seen such violently paranoid package rending since Divine was in need of Cha Cha heels as what Huppert supplies here). Later on, Manon Combes as Marton wails at her employer when a suggested resignation doesn't have the desired effect. "Why did you allow me to upset you?" she cries. Culpability, it seems, lies only in the hands of the establishment.
Bondy's real achievement is making this version of Les Fausses Confidences feel almost completely divorced from its simultaneous staged version. While we get plenty of the same shots and similar angles of Araminte's balcony, or a particular set of stairs, per se, first time production designer Aurore Vuillierme manages to make the material's three act structure feel a bit less restricted (assisted by brief ventures outside). Famed DP Luciano Tovoli pronouncedly changes style and framing as Marivaux's plot unfolds, at first showering everything in a sickly, soap opera golden glow, which begins to adjust as we retreat with the characters into their own internal motivations. A score from Bruno Coulais enhances the highly stylized theatricality, keeping us in mind of the playful slant of Dorante's scheming at every possible moment, a man whose "wealth is his virtue." But as more and more is revealed about each of these characters and their private desires, Les Fausses Confidences becomes more a study on the power of suggestion, including the idea of love. "Or we each see with our own eyes," remarks Araminte, struggling to comprehend the incongruous reports she's receiving.
As Marivaux's play winds down in its final turns, Huppert and Garrel glide through the backstage of the Odeon, positioning themselves in their final blocked poses (where she finds herself dramatically draped over a fireplace) to an empty house. Alas, we've witness a rehearsal, and the two players bid adieus as she walks to a car and glides off into the night.
★★★★/☆☆☆☆☆