Reviews
Fantastic Beasts and Where to Find Them | Review
Beasts of Burden: Yates Falters in CGI Heavy Harry Potter Prequel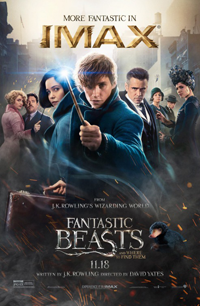 After taking a break from adapting Harry Potter films (he was responsible for the last four) with another problematic depiction of supposed white superiority with this summer's The Legend of Tarzan, director David Yates corners the market on J.K. Rowling's prequel franchise with first installment Fantastic Beasts and Where to Find Them. Unfortunately, this first chapter in the adventures of the Magizoologist Newt Scamander and his adventures as a stranger in the strange land of 1920s New York hardly rises to the magical occasion promised by 'fresh' material from Rowling and her world of wizards. A bloated hodgepodge of tangential creature related asides distract from a tedious ho-hum narrative concerning the exposure of the wizarding community to the pantheon of No-Majs (the US equivalent of the Muggle) while the threat of an insidious dark wizard from Europe overshadows this tenuous balance.
Writer and wizardry outsider Newt Scamander (Eddie Redmayne) arrives in 1926 New York City with a suitcase full of wondrous creatures, supposedly at the end of a global excursion where he's collected data for a textbook he's writing (which will eventually be a standard tool for the young wizards of Harry Potter's generation) on understanding and saving fantastic beasts the world has deemed fit to excise because wizards fail to see their usefulness. But Scamander also has ulterior motives, it would seem, because he arrives while a mysterious force is wreaking havoc on the city streets, which has the elite leadership (Carmen Ejogo, Colin Farrell) scrambling to find out who is responsible. Upon spotting Scamander, Auror Tina Goldstein (Katherine Waterston) sees an opportunity to relinquish her post as an investigator by reporting an unlicensed wizard carrying illegal and dangerous creatures with him around the city. Little does anyone know the growing faction of the fanatical Second Salemers, led by Mary Lou Barebone (Samantha Morton), has meddling aims to have all traces of magic eradicated in the city, something she feels she can accomplish by aligning herself with the head of the city's most powerful newspaper (Jon Voight) and his son (Josh Crowdery), who is running for political office.
Not unlike the first cinematic chapter of Harry Potter, there's something about Fantastic Beasts which feels a bit dumbed down and derivative, the constant refrain of a secret but powerful underground faction of beings here no different than the vamps and werewolves running around in continual frenzy behind the scenes of the Underworld franchise. The characterization of the elder wizards pale mightily in comparison to the rich universe established at Hogwarts, particularly with the beautiful but woefully wooden Carmen Ejogo as Seraphina Picquery. As the secretive Director of Magical Security, Percival Graves, Colin Farrell fares slightly better, if mostly because he has more to do than share his dismay at the shenanigans of Redmayne and Waterston. And as the two central characters, it's hard to imagine a less enthusiastically rendered romance than the milquetoast union of Newt Scamander and Tina (who receives short shrift in the otherwise hyperbolic character naming), who develop feelings despite a lack of chemistry and eye contact from Redmayne, who approaches the characterization of Newt as if he were an autistic wizard.
Hordes of fantastic beasts abound, and yet, nothing feels all that fantastic about these humdrum escapades, supposedly haunted by an evil European wizard (the barely whispered moniker Gellert Grindelwald is only ushered forth in a flurry of newspaper clippings until he yields one of the few stunted surprises the film has to offer). Logical questions arise about the limitations of their powers (why does Newt have to go through Customs? Why are the Obscurials named thus when we're told there used to be lots of them, meaning they wouldn't originally have been something 'obscure'?), leaving the only moments of irreverence to the comic relief romance between Dan Fogler's bakery entrepreneur and the ditzy Queenie played with winning energy by Alison Sudol. There's potency (and even camp potential) thanks to Samantha Morton's abusive foster home madam, whose Second Salemer faction is an obvious stand-in for religious zealotry, but abuses transpire off-screen, leaving a lop-sided aura of tension. By the time Ezra Miller's (as her pinched child) repressed anguish reaches a boiling point, we've become more fascinated at the barely contained homoeroticism between his character and Colin Farrell's after they exchange several clandestine, touch-feely caresses in dark alleyways.
Yates delivers this Harry Potter tangent in the same vein of his previous efforts, a glossy joyride trying to mount the same sort of spectacle, but feeling like a Jurassic Park knock-off with a heavy dose of Dr. Doolittle. Sycophantic legions obsessed with Rowling's imaginative universe will no doubt find exactly what it is they're looking for, but as inspiration for this coevolution franchise, Fantastic Beast and Where to Find Them fails to make us want to keep seeking them.
★★/☆☆☆☆