Brother's Keeper | Review
School Ties: Karahan Paints a Chilly Scene of Winter in Boarding School Melodrama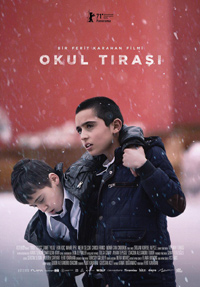 The numbing apathy of poverty chained to tireless bureaucracy is met with a rude awakening in Brother's Keeper, the fourth film from Turkish director Ferit Karahan. Ostensibly a social issue melodrama which pivots on the importance of connection and camaraderie as the only sure-fire way not to fall inextricably between the cracks for those without agency or privilege, this twenty-four-hour microcosm is compounded by metaphors of an environment as wintry outside as it is within. If the eventual finger pointing eventually satisfies as an administrative witch hunt, Karahan wisely keeps a close eye on his central protagonist, an innocent child whose haunting expressions say more than the scenario or the screenplay ever could.
Yusuf (Samet Yildiz) and Memo (Ekin Koc) are close friends at a remote boarding school in Eastern Anatolia. The Turkish staff is tasked with educating Kurdish students who have been deemed the cream of their crop, but the strict rules and unyielding demeanor of the staff suggests the boarding school is run more like a detention center. The students are only allowed to bath once a week, and when a disagreement breaks out between those who belong to Yusuf and Memo's dorm, they are punished by the bath prefect and are forced to wash with cold water. That night, Memo begs Yusuf to sleep in his bed, but the latter refuses to avoid a potential backlash due to the optics of sharing a bed with a classmate. When they awake in the morning, Memo is unresponsive and thus begins an incredibly arduous day wherein the staff bicker bitterly amongst one another as they try to assign blame for the comatose student. Meanwhile, a winter storm has shut off power to the facility, and without a proper nursing staff or an available vehicle to transport Memo to a hospital, the young boy's future hangs in the confounding nexus of bureaucratic finagling and mother nature's realities.
A Turkish-Romanian co-production, Brother's Keeper is of a more obvious kind of melodrama than Turkey's resident international auteur Nuri Bilge Ceylan's more esoteric, poetic output. Instead, this insistent backtracking of a potential incident caused by the considerable restrictions of the cultural environment recalls something by Asghar Farhadi, where those lowest on the hierarchy suffer to such a degree someone is finally forced to examine a chain of events to avoid consequence.
Grounding this predicament is a persuasive performance from newcomer Samet Yildiz as Yusuf, like many of his peers wholly aware of the shortcoming of the adults around him and thus able to predict interpretations of behavior and navigate loopholes to meet his needs. A begrudging ally arrives in the form of Melih Selcuk as a teacher who thankfully attempts to do the right thing, but as we soon discover, everyone involved in this system is negligent by default.
The ongoing ice storm obviously compounds the situation, but Memo would potentially be a goner whether the administration had a proper nursing staff or transportation to the hospital. Eventually, these issues take on an aspect of parody, and Brother's Keeper can't quite sail into a smooth finale. Ironically, these students are considered "gifted," but the school operates like a juvenile detention center and the youths seem destined only to be hobbled by the punitive trauma exacted by the staff. Yusuf's desperate call to his parents only solidifies the reality of despair, his youthful naivete confronting the inevitably of how futile doing the right thing eventually feels in a hopeless place.
Beautifully shot by Türksoy Gölebeyi, Brother's Keeper is a chilly, unhappy tale bolstered by strong performances and should appeal to those who don't mind an incessant streak of the cynical or maudlin.
Reviewed on March 1st at the 2021 (virtual edition) Berlin International Film Festival – Panorama Program. 85 Mins.
★★★/☆☆☆☆☆