A Love By Any Other Name: Lisecki's Debut a Modest Comedic Gem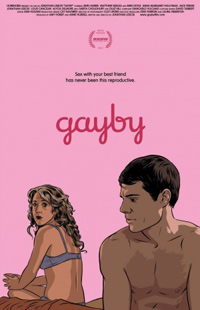 Based on his short film of the same name, director Jonathan Lisecki expands Gayby for his feature debut, a surprisingly well tread concept, into a delightful narrative exploring an all too familiar premise. Employing a plethora of notable film and television stars as reliable reinforcement, there's nary a dull moment, for better or worse, in a feature that hits all the notes its heterosexual counterpart, Friends With Kids, just couldn't.
Friends Jenn (Jenn Harris) and Matt (Matthew Wilkas) have been the best of friends since college, and now, both in their thirties, find themselves single and not exactly where they imagined themselves to be. Matt, a comic book aficionado, works in a comic book store where his hours are tooled around avoiding his ex-boyfriend, a frequent fixture there. Jenn, a yoga instructor, despises her boss, a woman that believes all her staff should be involved equally in bitch work tasks on the job, but frequently plays favorites with her less highly esteemed employees. Deciding that she doesn't see her best friend Matt enough these days and realizing her biological clock keeps clacking away, she asks him to make a baby with her. However, Jenn is decidedly against modern fertility treatments after seeing her barren younger sister go through an arduous ordeal, so she asks that Matt impregnate her the old fashioned way, that penile-vaginal style. Momentarily scoffing at her request, Matt quickly agrees to help his best friend out, and after their first awkward try, they set up a schedule to inseminate Jenn every time she's ovulating. Meanwhile, Jenn's boss's brother agrees to paint her apartment to give it a healthier "energy," forcing Jenn to temporarily move in with Matt. Together, they also agree it might be a good time to find someone special for themselves, each joining new internet dating sites, and fielding advice from their respective gay friends in Jamie (Jack Ferver) and Nelson (Jonathan Lisecki). But as more time goes by and romantic entanglements grow for each of them, Jenn and Matt are faced with a predicament that will threaten the likelihood of them having their gayby.
While the narrative arc may sound a bit threadbare on paper, Lisecki's cast quickly dissolves any formulaic trappings of the all too familiar material, mostly due to a star making turn from Jenn Harris, a master of comedic timing and hilarious facial expressions. Her chemistry with Matthew Wilkas is spot on, and their on screen relationship trumps either of their respective love interests in the film. Cameos from Alex Karpovsky, Sarita Choudhoury, and "Queer As Folk" alum Randy Harrison are peppered throughout, but scene-stealing support comes in the form of director Lisecki and his sparring with Jack Ferver (the delightful Jimmy Tickles from cult comic series "Strangers With Candy"). While they happen to be more stereotypically flamboyant homosexuals often seen in comedies relegated to an LGBT market, especially in comparison to the "Will and Grace" dynamic of the two leads, they manage to elevate the quality of this material into something greater than it really is and turn it into a delightfully funny comedy not aimed entirely at it's core audience. And props to Lisecki for the interestingly placed inclusion of Antony and the Johnsons' sweet and slow rendition of Beyonce's "Crazy In Love."
Unfortunately, Gayby does suffer from a clichéd finale, one of those "one year" later techniques that grants everyone a piece of happy pie, featured in nearly every struggling-to-make-a-baby comedy ever made. But for such an entertaining, and, albeit fluffy, 80 minutes that comes before it, you can mostly forgive the requisite tying up of loose ends. And perhaps with all our overpopulation problems the last thing we all need is another baby toddling around, whoever it's made by, but, we definitely are in need of more talented filmmakers like Lisecki, making films that are bright, funny, and memorable for their effort. Let's hope this one finds the wider audience it deserves.
Reviewed on June 16 at the 2012 Los Angeles Film Festival – Summer Showcase.
89 Min