The Trap of Love: DuVernay's Follows Up Impressive Debut, with Solid Sophomore Effort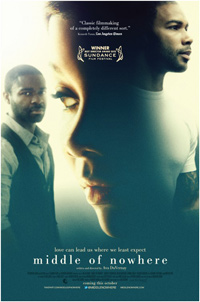 Director Ava DuVernay returns with her sophomore feature, Middle of Nowhere, less than a year after her awesome yet terribly unappreciated 2011 debut, I Will Follow, and also a film as equally nuanced about loss and love. As writer and director of both features, DuVernay, a seasoned publicist, has solidified herself as one of the best new directorial voices not only in what's being cited as a current wave in independent black centered cinema, but in independent American cinema overall. She's got a knack for not only writing excellent female characters, but casting actresses in them that are criminally underused.
Middle of Nowhere opens with a conversation between Ruby (Corinealdi) and Derek (Hardwicke) during a visiting day in prison. Derek has just been sentenced to an eight year sentence (five for good behavior) and Ruby has decided to drop out of medical school so that she would be able to be at home for his phone calls and near enough to visit every weekend. While he urges her not to make this sacrifice, Ruby is considerably insistent, taking work as a night nurse at a Los Angeles hospital and helping her single-mom sister (Edwina Findley) raise her young boy. Fast forward four years and it looks like Derek may be up for early parole, until an untimely prison fight causes everything to unravel and making Ruby realize she's been incredibly naïve to trust that her husband tells her everything that goes on behind bars (just as she turned a blind eye to his suspicious criminal activities). With pressure from her sister and her distant but strong-willed mother (Lorraine Toussaint), Ruby begins to explore her options, which includes possible romance with a sweet bus driver (David Oyelowo).
As in I Will Follow, DuVernay centers her story here around a woman who has lost the closest connection to her. Whereas death was the issue in the previous film, here, Ruby's hope to restore her life and relationship to what it was is a fantasy constantly dangling before her eyes…if only she can struggle to not grow into a different person in five years. The result is a terrifically written and nuanced performance from Emayatzy Corinealdi. Previously working mostly in shorts and television, Corinealdi knocks it out of the park, and each of the supporting cast feels pitch perfect, with special mention to Omari Hardwicke, who was also in DuVernay's previous film. However, Lorraine Toussaint steals every scene as a bitchy but well-meaning mother, and she dominates her handful of moments. (Someone please cast this woman in more films).
If there's any complaint about Middle of Nowhere it's that one has the urge to ask how Ruby could have been so incredibly naïve about Derek, what really happens to people in prison, and how could she have given up so many opportunities just to be near to him. But then the whole point seems to be that love is blind. A very telling detail shows Ruby bringing her new love interest to the movies, where the couple watch Fassbinder's Ali: Fear Eats the Soul (1974), a classic ill-fated love tale about an older German woman and a Berber guest worker who fall hopelessly in love, but are quickly torn apart due to racial and class mores. And it's Ruby who's just discovering that, without support, she can't keep her love or her relationship alive for her husband. This is one superbly written and acted film about holding onto love that's lost due to circumstances out of our control. Let's hope Ms. DuVernay, one of the few (but ever more present) black women behind the camera.
Reviewed on January 20 at the 2012 Sundance Film Festival – US DRAMATIC COMPETITION Programme.
107 Min.