The Souls of Black Folk: Peele's Debut Subverts the Norm in Edgy, Timely Horror Film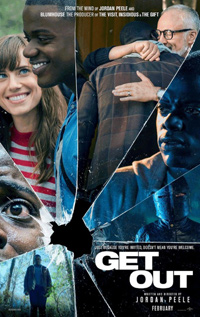 Behold the power of genre film, a tradition of cinema which allows for a more subversive engagement with issues topical, incendiary, and uncomfortable or distasteful to the palettes of the masses. Known as one half of the comic duo Key and Peele with Keegan-Michael Key, Jordan Peele breaks out with his directorial debut, horror film Get Out. A reconfiguration of 1975's The Stepford Wives, the Bryan Forbes adaptation of the Ira Levin novel, about a community of white suburban housewives who become hollowed out robots for their passive aggressive husbands, Peele brings his own new twists to a similar idea. But instead of the omnipotent demon of patriarchy from Levin's text, the name of the game here is racism–a contemporary examination of how it's mutated into a pervasive, insidious infection underneath a veneer of political correctness and other conservative social niceties. Arriving in theaters in just the right time, when a new American era of alternative facts ushered in on the backs of a populist movement dedicated to their nostalgic yearning for a return to better, whiter times, Peele's insidious horror film delivers the edgy tone we need.
When his girlfriend Rose (Allison Williams) requests he visit her parents in their suburban splendor home one weekend, Chris (Daniel Kaluuya) is apprehensive, especially after discovering she's never told her white family he is black. Since Rose has never brought home a black boyfriend before, he knows there will be some growing pains his caring girlfriend did not anticipate. Upon arriving, Dean (Bradley Whitford) and Missy Armitage (Catherine Keener) seem normal and friendly, although obviously not used to dealing with black folks in a social setting. Rose's intense brother (Caleb Landry Jones), and the black help, including the maid (Betty Gabriel) and the groundskeeper (Marcus Henderson), on the other hand, give Chris the nagging feeling something is horrendously off about the Armitage house.
Similarities to The Stepford Wives abound in Get Out, including Chris' passion for photography, a detail shared with the Katharine Ross protagonist of the earlier film (also of note, Kaluuya's character is in a position usually reserved for a white heroine in genre film—his presence here is an interesting indication, not only of how white patriarchy desires to emasculate black men but also an eerie observation on how white women have now absorbed the same role of oppressor). Creativity is shorthand for agency, the first thing to go after a total appropriation of, in this instance, black body and mind. Of course, there are other exploitation films about black people terrorized in the backwoods, and something like Leslie Uggams in Poor Pretty Eddie (1975), seems like the red neck rural prototype for this shriek of affluent, suburban horror here.
If what actually happens to the victims of the Armitage (a surname indicating original ownership over land or dwelling) clan is illogical yet terrifying, it is what Peele suggests and confirms in various subtexts which really mark Get Out as something smart and subversive. How black bodies are used, manipulated, and desired by white people is the backbone of the film. Peele fills his film with familiar instances to any racial other subjected to the misplaced admiration and virulent fetishization of their physiques, their capabilities, and ultimate worth based on physicality.
Also impressive is how Peele manages the near impossible in a contemporary genre film–he creates a palpable sense of dread at the same time as he concocts an incredible emotional investment with Daniel Kaluuya's Chris, partially due to the actor's layered performance. In nearly every capacity, blackness equates to an automatic vulnerability, including in two distinct sequences involving the law, both at the hands of white and black law enforcement officials. Peele's healthy dose of comedic relief comes in the form of upending well-placed TSA stereotypes courtesy of LilRel Howery, who comes off with most of the more applause worthy moments, and for many, a welcome relief to the incredible discomfort. Additionally, the recurring motif concerning deer, an animal population requiring mankind's 'control' for the sake of nature itself, is another sinister parallel referenced sporadically but effectively.
As its white cast members, a nauseatingly saccharine Bradley Whitford is an excellent foil for a witchy Catherine Keener, while as their children, the immediately abrasive Caleb Landry Jones is excellent casting, and a dynamic Allison Williams has some surprisingly effective moments. As "the help" Lakeith Williams, Betty Gabriel, and Marcus Henderson all provide unnerving moments, particularly Gabriel, who gets a subtler but phenomenal Paula Prentiss-ish meltdown.
Briskly paced (even to the degree where some reveals are a bit too convenient in the third act), this is as relevant as social commentary as it is a potent horror film, and marks Jordan Peele as an exciting, multifaceted director.
Reviewed on January 24th at the 2017 Sundance Film Festival – Secret Midnight Screening. 130 Min.
★★★½/☆☆☆☆☆