Reviews
Gett: The Trial of Viviane Amsalem | Review
Horse & Carriage: The Elkabetzs' Kafkaesque Interpretation of So-Called Sacred Institution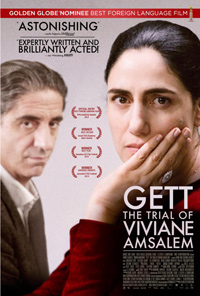 The third film in a trilogy examining the relationship between a husband and wife comes full circle with Gett: The Trial of Viviane Amsalem, a viciously astute examination of Israel's divorce procedures. Brother and sister directing duo Roni and Schlomi Elkabetz began their enterprise back in 2004 with To Take a Wife, which continued with 7 Days in 2007, though it isn't necessary to have seen either of these features to appreciate what they're doing here with this deliciously crafted drama that's as infuriating as it is highly engrossing. If on paper it sounds like a tedious slog of a subject matter, put aside those assumptions because the Elkabetzs' have made an invigorating, emotionally charged powder keg, a film that simultaneously harpoons the misogynistic practices of the rabbinical courts just as it gives powerful agency to its highly determined female protagonist.
In Israel, a Jewish marriage falls under the jurisdiction of the religious rabbinical courts, and divorce, a "gett," is a document that can only be granted a wife when a husband agrees to give her one or the parties can prove grounds for such action, of course. But it is the wish of the husband and not the will of the wife that dictates course of action. In the case of Viviane (Ronit Elkabetz) and Elisha Amsalem (Simon Abkarian), married for thirty years, there aren't any grounds, but they've been living separately and haven't spoken for the past four years. She lives close by with her sister, and sends another relative over to Elisha's on a daily basis with food to feed their youngest child that still lives at home. Neither parties have committed adultery or any other kind of crime, yet, they viciously hate each other. However, Elisha refuses to grant Viviane a divorce, leading three rabbinical judges into a five year process attempting to find the necessary grounds to force Elisha to do so. However, Elisha, defended by his own brother (Sasson Gabai), resorts to several tactics that drag out the already interminable process.
Filmed entirely within sterile courtroom settings and waiting rooms, Gett manages to be galvanizing in unexpected ways, generating tension and emotional venom better than most thrillers. Silenced, judged, condemned, and made to suffer a myriad of criticisms concerning her place, Ronit Elkabetz enlivens Viviane Amsalem with a presence beyond language. As we flurry through an endless amount of court dates over an unfathomable five year period in time, we reach multiple peaks of emotional highs, breaking points, tears and shouts, which plays like Bergman's relationship dramas realized as a criminal trial. Thus, the complete title of the film is an actual allusion to Kafka's most famed text, wherein the famed Josef K. is arrested and prosecuted by an unreachable authority, his crime revealed to no one, not even himself. Viviane's process is equally arduous, though some darkly comedic undertones reach delirious heights thanks to Menashe Noy as her incredulous lawyer.
DoP Jeanne Lapoirie (a favorite of Francois Ozon and Andre Techine) favors a variety of stylized close-ups here, often focusing tightly on Ronit Elkabetz's face, capturing her expertly moderated performance of constant emotional flux, stunted continually by the masculine authority of the judicial system. When she begins to come undone, it's a torrential stupor, a beautiful, stupendous kind of performance that outshines anything her international counterparts have offered up this year.
Elkabetz, who doesn't shy away from sullying her stunning beauty (see her in Keren Yedaya's Or, My Treasure as a prostitute mother), is deserving of a higher profile, appearing in several highly acclaimed Israeli titles (The Band's Visit) as well as working with major French names, such as appearing in Fanny Ardant's Ashes and Blood, and Andre Techine's underrated The Girl on the Train (2010) in supporting roles. She owns every frame of Gett and is positively transfixing. Abkarian gives an equally unnerving and quietly repugnant performance—it's the less ostentatious role, by far, yet of considerable note. Other supporting players also enliven the film's operatic outbursts, especially a likeable Menashe Noy and a brief moment of comedic distraction from a stormy Rubi Porat Shoval as Viviane's verbal sister.
Relayed as some bloated, never-ending nightmare of unnecessary examination, Gett: The Trial of Viviane Amsalem should be a revelation not only as an expertly crafted drama but a peek at the archaic, ridiculously unfair customs of a medieval court system designed specifically to disfavor the plight and role of woman.
Reviewed on November 8 at the 2014 AFI Film Festival – World Cinema Program. 115 Min.
★★★★/☆☆☆☆☆