While You Were Peeping: Godet's Elegy Brimming with Belabored Emotion
With his sophomore directorial effort,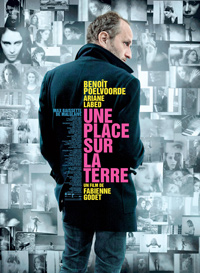 Fabienne Godet's A Place on Earth (Une place sur la Terre) once again places Belgian actor Benoît Poelvoorde in the midst of a doomed romantic entanglement. Surprisingly, the generally comedic thespian excels at these melancholy, brooding types, as evidenced by recent stints in Jean-Pierre Ameris' Romantics Anonymous (2010) and Benoit Jacquot's Three Hearts (2014). As an uninspired photographer, Poelvoorde's equally forlorn here, though he's on the less dramatic end of the comparable occupationally challenged protagonist featured in Godet's first feature, Burnt Out (2005). However, the film's dramatic conflict inevitably ends up feeling a bit forced, the emotionally unstable natures of its romantic leads vaguely administered, which casts an extemporaneous pallor over the script that should leave us feeling as devastated as the roiling soundtrack and sweeping visuals urge.
A struggling photographer, Antoine (Poelvoorde) drifts through life, befriended only by his seven year old neighbor, Mateo (Max Baissette de Malglaive), who he cares for in the stead of Mateo's busy single mother Margot (Julie Moulier). But upon hearing someone play Chopin on the piano nearby, Antoine spies his beautiful neighbor Elena (Ariana Labed) and becomes transfixed, secretly photographing her. One evening, he happens to capture her suicide attempt while snapping pictures of her, and he decides to intervene, saving her life. Elena is at first wary of him, but warms to Antoine's offbeat personality, inviting him to her parents' for a dinner of thanks. The two become closer, but Antoine finds himself unable to be honest about his predilection for watching her prior to their chance meeting.
A Place on Earth certainly evokes the poetic melancholy of its emotionally tumultuous lovers, with Celine Sciamma's regular DoP Crystel Fournier capturing what feels like the glossy coolness of a ripe autumn, reflections and photographs representing the captured imagery of characters' inner desires. Antoine's fascination with Elena becomes an unhealthy obsession, if mostly because he can't bring himself to explain how it is exactly he came to be watching her on the eve of her suicide attempt.
Basically, this feels like a more uneasy version of the 1995 American romcom While You Were Sleeping (itself based on a Cornel Woolrich story), except completely denuded of the tension that it could have achieved. Both Antoine and Elena are defined entirely by their sadness, which seems the mutual attraction, discovering how the other gets by through each day's slog. "You're always sad about someone's sadness," he observes of her. But Antoine has the edge, as we're led to understand that Elena serves as the necessary spark he needs to inspire him. But beyond being his muse, poor Ariane Labed has little to do as Elena, other than serve as a catalyst for Antoine's growth (this is a far cry from the dynamic performance from Labed in Fidelio: Alice's Journey).
However, by far the biggest detraction is Godet's use of Philip Glass's score from the 2001 film The Hours, specifically the segment known as "Morning Passages." So distinct is this piece of music, which often overrides the dialogue for dramatic effect, that it's uncertain where the score by credited composer Francois Eudes begins or ends. And those who recognize it will doubtlessly be taken away from the dramatic impact of A Place on Earth, instead reminded of the original, defining source.
Reviewed as part of 2015's My French Film Festival, January 16 to February 16.
★★½/☆☆☆☆☆