Reviews
Ginger & Rosa | AFI Fest 2012 Review
Something In Canned Air: Potter Creates Showcase for Fanning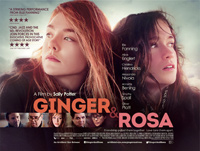 Director Sally Potter has always seemed to lean towards a mischievous experimentalism in narrative form, which can certainly be evidenced by her masterpiece, the 1992 adaptation of Virginia Woolf's Orlando, as well as her daring 2004 film Yes, filmed entirely in iambic pentameter. Her latest, a period piece bildungsroman (of sorts), Ginger & Rosa, while displaying a sort of elliptical parlance, isn't quite as heady stylistically either in tone or content. While it does manage to feature an outstanding lead performance, there's a frumpy sense of dissociation from the proceedings, devoid of kitchen sink realism even as it plunges into domestic drama fussies towards its muted finale.
Opening with grainy footage of the mushroom cloud enveloping the skies over Hiroshima in 1945, we get snippets of silent sequences where we watch two London mothers cling to each other as they give birth on the same evening. Fast forward to 1962, and the daughters of Natalie (Christina Hendricks), and Anoushka (Jodhi May), are now in their late teens, still the best of friends, but about to be drawn apart by differing forces. Rosa (Alice Englert, daughter of Jane Campion), is a brooding wild child, hateful towards her mother, Anoushka, a measly cleaning lady, constantly lamenting the absence of Rosa's father. But as Rosa appears to be dabbling in sexual discovery, the quieter, introspective Ginger (Elle Fanning), follows in the footsteps of her pacifist activist father, Roland (Alessandro Nivola).
As Rosa's interests drift towards the comfort of mind numbing religious control, Ginger becomes fascinated with Cold War politics and social activisms, quoting Simone de Beauvoir while Rosa stays lost in pulp magazines that tell young women that men have no interest in serious minded members of the opposite sex. Soon, Ginger is attending meetings about nuclear disarmament, both attracted and horrified at the excitement of the constantly talked about Bomb that could drop on them at any time. But as the relationship between Natalie and Roland disbands, and Ginger leaves behind her high strung and bitter mother to live with Roland (he won't let her call her dad, as this would be what he considers a bourgeois deathtrap) in his bohemian loft, Rosa starts to canoodle uncomfortably with Roland, challenging their friendship and Ginger's fast expanding view of the world. While she does have a small support group of family friends to lean on, including a gay couple (Timothy Spall and Oliver Platt) and their sassy brassy American feminist friend, Bella (Annette Bening), it may be that Ginger's fascination with protesting may be more personal than political.
Of course, the main attractions of Ginger & Rosa are the two distinctly American notables Potter showcases, Hendricks and Fanning. If the more than able Hendricks comes off a bit flashy and distractingly beautiful, Elle Fanning's extremely likeable and natural performance should hold the most adamant naysayers at bay. In fact, Potter's film should really be just called Ginger, as everyone else, including the equally titular Rosa, takes a notable back seat to the red-headed, tussle haired ingénue. It is unfortunate that the rest of the vehicle doesn't quite live up to the bar, especially Englert, who never quite registers as a presence, even though cinematographer Robbie Ryan (frequent collaborator with Andrea Arnold, who also worked on Loach's The Angels' Share this year as well) has a distracting predilection with extreme close-ups in this effort. You may not even remember any of the set designs by the end, so frequently is the camera hinged entirely on one character or another's face. And there's a maddening lack of back-story for some of the more notable supporting players, namely an extremely likeable but strangely placed Annette Bening. At one point Alessandro Nivola aggressively questions her about who she is and why she has the right to judge him after just meeting him. Yes, we want to know who she is, too.
Most of Ginger & Rosa feels rote, and if anything, should make one appreciate the plodding and deliberate nature of Olivier Assayas' latest, the similarly themed Something In the Air, concerning activist students in late 60s France. From the clichéd rearview mirror glance that Roland gives Rosa early on, to the surprisingly lackluster bickering between Roland and Nat (her nickname purposefully drawing similarities to the small, irritating insect it so conveniently recalls), to Englert's zombified rationale for pursuing an illicit affair with her best friend's daddy, to the laughable half assed philosophizing of Roland (we find that Ginger's real name is Africa) from a surprisingly flaccid Nivola, there's a lot of tired cushioning swirling around Ginger & Rosa. At the same time, Potter manages to capture a fascinating and realistic portrayal from Fanning, with Ryan's camerawork finding at least the impressive nuance of her facial expressions to justify what they're getting at.
Reviewed on November 07 at the 2012 AFI Film Festival – SPECIAL SCREENINGS Programme.
89 Min