Wrath of Man [Video Review]
Money for Nothin': Ritchie Wreaks Havoc in Violent L.A. Neo-Noir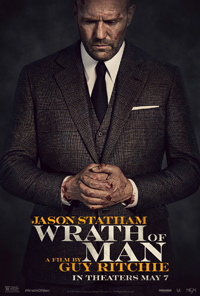 At long last, Guy Ritchie returns to his roots with Wrath of Man, a violent odyssey lodged in the aggressive, machismo realm the director navigated so persuasively in his early days with titles like Lock, Stock and Two Smoking Barrels (1998) and Snatch (2000). A high-profile celebrity relationship with Madonna assisted in transporting him into the Hollywood studio system, where Ritchie has spent the last decade transfiguring nostalgic properties into mediocre contemporizations.
Reuniting with Jason Statham, who appeared in Ritchie's first two films and his only other US set endeavor, 2005's Revolver, Ritchie is again reconstituting previous material in this remake of Nicolas Boukhrief's 2004 film Cash Truck, but it's an unexpectedly grim heist/revenge film which vibrates with the energy most of Ritchie's studio output has lacked. Albeit a bit morose for those who've become accustomed to Statham's B-grade action staples, it's a welcome slice of gruesomely inclined adult entertainment.
When the mysterious H (Statham) takes a job working for a Los Angeles cash truck company, his cold demeanor is a bit off putting for most of his colleagues, except for the affable Bullet (Holt McCallany). It seems H has some secrets, however, when he efficiently decimates a team of criminals who attempt to rob their transport. Shortly after, his presence seems to scare off another band of marauders making a grab for cash. While we slowly piece together who H is and why exactly he sought employment at this company, FBI agents and another band of criminals have their own plans which will eventually involve H.

While the less one knows about the plot mechanics of Wrath of Man, the better, its narrative structure goes a long way towards establishing grit, texture, and a sense of awe in what's really a straightforward narrative once various secrets are revealed. The first act establishes there are two criminal syndicates which seem to prey on armored car services, the established pros run by Alex Ferns and Babs Olusanmokun, and a group of ex-military types led by Jeffrey Donovan (including Scott Eastwood, Raul Castillo, Laz Alonso and Deobia Oparei among them) looking to make one big bust so they can retire and live in the lap of luxury.
Another tangent includes some FBI Agents headed by Andy Garcia, but the real meat of the film resides in the cash truck company, where Ritchie and his co-writers Ivan Atkinson and Marn Davies attempt a bit more personality, at least with more memorable character names, like Hollow Bob or Hartnett's poser, Sweat Boy Dave. It's a feat of red herring casting wherein the number of notables, including Eddie Marsan, Holt McCallany, and the only real female character embodied by Niamh Algar, keep us guessing as to a potential double agent in the crew.
Wrath of Man nails the antihero vibe of the Richard Stark/Donald E. Westlake protagonist Parker, previously portrayed on screen by Lee Marvin and Mel Gibson, when Westlake's estate wouldn't allow the character's actual name to be used in adaptations (ironically, Jason Statham would be the first actor to play the character by his actual name in Taylor Hackford's 2013 film Parker, following the author's death). And like another Gibson characterization, Martin Campbell's remake of Edge of Darkness (2010), this film touches upon the brooding intensity of an underbelly even worse than the one occupied by a bunch of garden variety thieves.
If wrath is the deadly sin evoked in the title, this is really another exploration of greed's destructive forces. A marvelously moody score from Christopher Benstead (The Gentlemen, 2019) assists in elevating the material, as does a veneer of Los Angeles climes often neglected in genre cinema (recalling Karyn Kusama's Inglewood bank robbery in 2018's Destroyer).
The fantastic ensemble (which includes an appropriate use of Post Malone) features a bevy of notables, some cast against type while others simply streamline the proceedings. While we've seen this scenario, and its parameters (Nimrod Antal's Armored, 2009, comes to mind), it's a well-executed and perversely stylish return for Guy Ritchie.
★★★½/☆☆☆☆☆