Investigation of a Citizen: Noyce Can't Get in Formation with True Crime Chronicle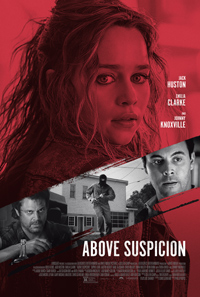 In 1943, Joan Crawford and John Wayne fought the Nazis. Christopher Reeve played a paralyzed cop (shortly before his actual paralysis) using his condition to hide his motive for wanting to kill his adulterous spouse Kim Cattrall in 1995. Annabella Sciorra suspected husband Scott Bakula of nefarious wrong doings in 2000. And then Lynda La Plante's short lived 2009 series featured Kelly Reilly as a tenacious Detective Constable. What they have in common is they were all Above Suspicion, a title shared by the latest film from Hollywood studio expat Phillip Noyce, based on Joe Sharkey's 2017 true crime novel about an undercover FBI agent who engaged in a sexual affair and then murdered his informant in 1988 Kentucky. With its continuously recyclable title, all-too familiar plot points, glossy casting and vaguely attenuated realities involving drug addiction and the economically disenfranchised, it's a disappointingly pedantic offering from the once formidable Noyce.
When rookie detective Mark Putnam (Jack Huston) finds himself assigned to a small coal mining town Kentucky, his overzealousness to establish himself leads to indiscretion when he meets Susan Smith (Emilia Clarke), a divorced mother of two living with her ex-husband (Johnny Knoxville) while struggling with addiction. After her brother is involved in a shooting, she nominates herself as an informant, and thus begins a simultaneous affair with the married Mark. Her priceless information leads to Putnam's professional advancement, but when he attempts to leave Susan behind, things turn deadly.
Hindsight, as they say, is 20/20, and Chris Gerolmo's (Mississippi Burning; Citizen X) script chooses to fashion Susan's story through the dead woman's retrospective perspective, a la The Lovely Bones. This allows her a semblance of agency, but it creates an odd tension for Clarke's performance as a woman who already knows what's going to happen to her, like a reenactment from "Unsolved Mysteries" rather than the growing sense of dread accompanied by her loss of control regarding her attraction to Mark. This narration also includes the most egregiously over-the-top bits, like Susan's quip, "Show me a man who's working all the time and I'll show you the woman he's hiding from." Also, Clarke is never believably unkempt enough to be a tattered back-woods beauty riding on the waves of her last bloom, and to suggest she's also birthed two children with the weathered Johnny Knoxville as her ex-husband assists in a constant level of distraction. Huston feels typecast (see the superior Antebellum, 2020), and like his cinematic lineage, on hand for shorthand sinister. But he's got little to do on screen as Mark Putnam.

Sometimes the peripheral characters in these exercises make-up for what's lacking in the lead performers, but only Sophie Lowe as a sweet, long-suffering wife squeezes any sympathy. Kevin Dunn as Mark's work nemesis and Thora Birch as Clarke's sister seem wasted (in fact, Birch feels like she would have been a better fit for Susan). And then Above Suspicion has the misfortune of requiring Karl Glusman to realistically depict a hayseed ne'er do-well, and the sequences are painful to behold, as unappealing as Noyce's repeated 'party' scenes (more disappointing considering it's Out of Sight DP Elliot Davis) which look like cheap, blurry music videos attempting to visualize inebriated, drug-addled minds.
Not so ill conceived it's an outright misfire, Above Suspicion will likely float into a blurry ether along with other films bearing the same vaguely conceived title.
★★/☆☆☆☆☆