Here Today [Video Review]
Make Way for Tomorrow: Crystal Courts Catharsis in Uneven Odd Couple Comedy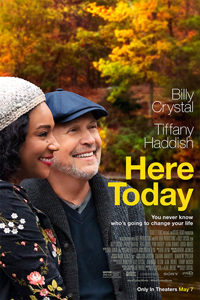 It's been over twenty years since Billy Crystal stepped behind the camera, even longer if you're counting theatrical features (the last being the romantic comedy Forget Paris, the 1995 title which saw him play opposite Debra Winger). So, there's an automatic curiosity regarding Here Today, scripted by Alan Zweibel (based on his short story "The Prize") in what plays like a partially autobiographical take on a comedy writer whose medical condition provides a pathway to personal redemption. Even more curious is Crystal's co-star, comedian Tiffany Haddish, playing a kooky chanteuse whose chance meeting with the writer allows for the kind of poignant odd couple situation designed to prime our tears after two fun-filled acts. Except the poignancy never germinates and the laughs are thin, which makes the film a mixed bag of cliched storytelling distracted by the pedigree of its cast members absent the chemistry required for emotional investment.
Veteran comedy writer Charlie Burnz (Crystal) is staving off the inevitable after being diagnosed with a rare form of dementia. While functioning well enough as conciliary for a popular sketch comedy show, his routine is upended after he has a surprise lunch with NYC street singer Emma Payge (Haddish), who holds a winning auction ticket once belonging to her ex-boyfriend (Nyambi Nyambi). Having no idea who she's lunching with, despite his formidable success as a writer (he's invited to celebrate an anniversary screening of his first hit film with real-life notables Barry Levinson, Sharon Stone and Kevin Kline portraying themselves), an allergic reaction to shellfish kinda sorta cements their continuing interaction. As friendship and camaraderie blossoms, Emma becomes his sole confidant concerning his medical situation, but thanks to her intervention, he finds himself in a unique position to reconcile with his adult children (Penn Badgley, Laura Benanti).
As far as casting himself in the lead for the third time (following Mr. Saturday Night and Forget Paris), Crystal is as watchable as ever as Charlie Burnz, whether he's laughing or crying. Even when his co-stars can't quite match his vibe, he's consistently unphased. Haddish, on the other hand, is more of an improvisational impresario, so when she's simply hashing out the requirements of the script, her line delivery is sometimes tone deaf. Her introductory sequence has the power of slapstick (an allergic reaction allowing for the film's only real physical gag, a la Hitch, 2005), but soon after, a lack of character development for Emma Payge, paired with her martyrdom, gives Here Today an uncomfortable essence of the 'magical negro' stereotype. Who is Emma Payge? And why didn't they hire an actor who could sing? Or make her another kind of struggling professional once they hired Haddish? Whatever the circumstances which pulled the project together, the film's resistance in giving her any grit, while perhaps resisting a stereotype, creates another problematic one.

The most interesting narrative elements are likely those most authentic to Zweibel, one of the original writers of "SNL." The vetting of comedy sketches, though not particularly persuasive, provide an interesting behind-the-scenes portrait of the profession, but these scenes really tap into one of the few poignant bits concerning Charlie's mentorship of Darrell (newcomer Andrew Durand). It's also the setting which also allows for the most exacting narrative moment when Charlie has a freak out session during a live taping wherein everyone except the crew believes to be a planned comic coup.
Everything about his relationship with his estranged children, including the cliché laden Penn Badgley and Laura Benanti, is so trenchantly familiar you could take a nap and wake up for the final credits knowing full well how the resolution played out (an ungainly attempt at suspense over dementia defined trauma flashbacks involving what happened to his wife is not just manipulative, but worse, dull). Louisa Krause, a character actress who has honed withering snark with aplomb, feels miscast as the eccentric spirit he supposedly fell head over feet for—at least until professional success arrived.
Shot by Vanja Cernjul (Crazy Rich Asians, 2018), it's a tightly framed portrait of New York, meaning visual focal points are mostly the zany costumes and expressive faces of the leads more than anything. Less Woody Allen and more Henry Jaglom, it's an odd couple dramedy which sure does feel odd, but not in a fun or particularly memorable way.
★★/☆☆☆☆☆