I Feel Petty: Sigurdsson Dispels the Myth of Polite Society with Sharp Social Satire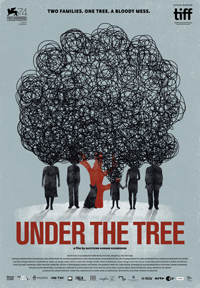 Hell may be other people, but it's most certainly your neighbors, at least as presented in Icelandic director Hafsteinn Gunnar Sigurdsson's third feature, Under the Tree. Its title (eventually) suggests the terrestrial shadow in which all our petty squabbles grow despite the privilege of life, liberty, and love, except sans a silver lining since Sigurdsson's icy payoff drops like the sort of Nordic death rattle one would expect from Ingmar Bergman. Premiering out of the Venice Film Festival in the Horizons sidebar, Sigurdsson's third feature may finally allow him international prominence (though if his name sounds familiar to English speakers it's because his 2011 debut was remade as Prince Avalanche in 2013 by David Gordon Green), as its certainly one of the most resoundingly bleak dark comedies of recent memory.
Opening on a note which plays like a sequence out of the Klown series, Atli (Steinbor Hroar Steinborssen) is promptly kicked out of his home by wife Agnes (Lara Johanna Jonsdottir) when she discovers him masturbating to videos of himself having sex with a friend of the family. Not believing (or caring) his claims of the footage being filmed before their marriage, the bitterly unhappy Agnes sets out to ruin Atli, who can't seem to fathom not being given a second chance. Meanwhile, Atli returns to his parents' home, where an even more hostile tug-of-war has been set in motion. Emotionally stagnant following the disappearance of her younger son, Inga (Edda Bjorgvinsdottir) has decided to violently rebuke the next-door neighbors' (Portseinn Bachman; Selma Bjornsdottir) request for them to fell a sprawling tree which casts a dark shadow over their front stoop. Convinced it's the new wife's intentions, Inga decides to make life difficult for the younger couple as her mild-mannered husband (Sigurdur Sigurjonsson) gets caught in the middle of her scheming. While the marring of physical property opens the floodgates, events quickly escalate out of control, devolving into Lars Von Trier inspired darkness with some innocent casualties of war.
DP Monica Lenczewska strains these troubled lives through washed out palettes, which initially gives Under the Tree a near soap opera level of irony. But whatever dead pan drollery Sigurdsson seems to be employing quickly and efficiently evaporates beneath the sting of pinched nerves exacerbated by compromised status symbols, psychotic breakdowns, and material possessions wielded as metaphors.
Edda Bjordvinsdottir's Inga ends up stealing the show thanks to a cruelty she doesn't seem to be aware of, a shell of a human thanks to the mysterious loss of her favored offspring. But Under the Tree's strengths lie in the dueling performances of its ensemble, resembling a variety of contemporary Scandi social melodramas (Tomas Alfredson's 2004 Four Shades of Brown comes to mind). Its twin situations juxtapose two types of hell-hath-no-fury-like-a- woman-scorned scenarios, showcasing how Agnes and Inga's (let's not discount the unsympathetic neighbor Eybjorg) behaviors tend to cow or dismantle their male counterparts. Each respond to the sort of banal stimulus women are expected to weather (cheating husbands, entitled neighbors) and unleash such intense vitriol their actions are considered even more shocking and insane because they're women.
As painted by the unflinching eye of Sigurdsson, only violence and retribution seem to be able to wake them from a desensitized stupor, and perhaps, in his audience as well.
★★★½/☆☆☆☆☆