Reviews
Hellions | 2015 TIFF Review
Invasion of the Baby Snatchers: McDonald's Stillborn Halloween Horror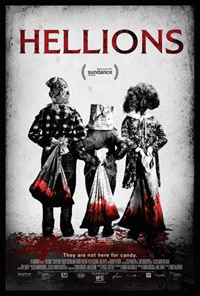 Starting off with a customary flourish of genre staples to set the mood, we gloss over a creepy girl wandering down the halls of an empty isolated, a solemn graveyard, and an autumnally pregnant patch of pumpkins all within the first several moments of Bruce McDonald's latest exercise, Hellions, a reference to the murderous child killers who will eventually assail our vulnerable heroine. Like The Strangers meets The Brood with a mish-mash of other familiar pregnancy horror and home invasion genre tropes, this preternatural prodigy saga loses steam shortly after the end of its first act, when we're lost in a boundless, parallel world of unlimited possibilities eventually limited by a familiar routine vaguely outlined.
In the small town of Waterford, the self-proclaimed pumpkin capital of the world, teenage Dora Vogel (Chloe Rose) discovers she's pregnant, though informs the doctor this is impossible. It happens to be Halloween, and after canoodling with her boyfriend, Dora goes home to sulk as her mom and younger sibling go out trick or treating. Dressing up for a party despite the day's catastrophic news, Dora awaits to be picked up for the event. However, a group of strange children keep ringing the doorbell and saying creepy things. Eventually, Dora finds herself subjected to their particular brand of terror, and it turns out they seek the quickly growing fetus in her belly.
We've seen far too many Halloween night horror films not to expect something a bit more inspired than the rudimentary agenda of undefined demonic tots coming to pluck their new sibling out the womb of its unsuspecting virginal mother. Chloe Rose is more or less effective as the plagued pregnant teen, but we're never made to care what happens to her.
A few moments of fleeting grotesqueries promise something much greater, like the troll-like trick or treaters clutching at Dora's pregnant belly with bloody, stubby hands. But by the time we get to a film palette drenched in washed out shades of pink, we're expecting some kind of lofty explanation considering this parallel universe Dora is apparently transported into, where the demonic kids apparently manipulate time (well, clocks at least) but the town doctor and sheriff are still able to impose upon them. At a running time of a scant eighty minutes, one wonders why a bit of extra thought wasn't poured into the origins of the children or the strengthening of Dora's characterization prior to the pregnancy. Its extended cat and mouse interplay in the second half could have been reduced considerably for another purposeful act.
A grizzled Robert Patrick is wasted here, a far cry from the plum role granted Stephen McHattie in McDonald's last genre outing, 2008's more ingenious Pontypool. A multitude of creepy infant horror films will glance through your memory, from granddaddy Rosemary's Baby and its own progeny, such as Cohen's It's Alive films to Corman's The Unborn, while also channeling items like Inside (2007) or the cult of evil children rampaging a rural town in Village of the Damned. Hellions is never as lively as any of these, even as Pascal Trottier's unshaped narrative seems as knowledgeable of these items as we are. Sometimes weird but never weird enough, Hellions is derivative horror fluff.
Reviewed on September 17th at the 2015 Toronto International Film Festival – Vanguard Program. 87 Mins.
★★/☆☆☆☆☆