Reviews
Hello I Must Be Going | Review
Do You Know Where You're Going To?: Louiso's Latest Outing an Engrossing Gem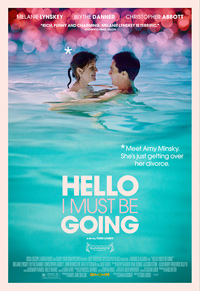 After his 2009 sophomore feature, The Marc Pease Experience was bamboozled out of a proper release due to star Ben Stiller, director Todd Louiso returns with his latest, Hello I Must Be Going, a quietly absorbing tale about an unmoored woman trying to pick up the pieces. Returning to the comically tragic tone that made his much hailed 2002 debut, Love Liza so noteworthy, Louiso manages to create a memorable showcase for undervalued character actress Melanie Lynskey.
Three months into divorce proceedings, Amy Minsky (Lynskey) is frivolously wasting time at the Connecticut home of her parents (Blythe Danner and John Rubinstein). Veritably heartbroken and feeling as if life has pulled the rug from under her, Amy is still struggling to find a plan to move forward, having left all her possessions at her ex-husband's (Dan Futterman), a man for whom she had also left behind her thesis project in photography. Overeducated and nowhere to go, Amy dazedly wanders around her parent's posh pad, much to her mother Ruth's chagrin. However, due to recent economic circumstances, her father has had to postpone retirement (meaning mom has had to postpone a golden years dream to travel the globe), and is about to host a dinner party for a possible client. If her father snags the client, he gets to retire, travel with Ruth, oh, and they can keep their expensive house. Since there is so much riding on this dinner party, Amy is pressured to clean herself up and get a nice dress. At the dinner party, Amy meets the nineteen year old step-son of her father's potential client, Jeremy (Christopher Abbott). They share a quick flirtation which suddenly becomes a full blown sexual and romantic fling. But Amy soon realizes that being in her mid-thirties and a sexual tryst with a nineteen year old may have its consequences, and in this case, may ruin her parents' future. At the same time, Amy has finally found someone that's made her feel loved and wanted, so she must decide whose interests are most important.
Louiso (also a well known actor with memorable appearances in films like High Fidelity, 2000 and Jerry Maguire, 1996), has created a delicate vehicle concentrated completely around the performance of his protagonist, providing supporting and character actress Lynskey with a role that seems tailor made for her (much as he did for Philip Seymour Hoffman in 2002). And it just so happens that she's infectiously watchable here. There's a certain amount of conventionality to his material with Hello I Must Be Going, as we've definitely seen many a narrative spinning around the mid-life crises male or female, living with mom and dad, or the older woman with younger man scenario, etc. Not that Louiso even seems to be attempting to court taboo in any sense, but there's a great degree of "old hat" going on here, which is certainly elevated by a certifiably excellent turn from Lynskey.
Having made her screen debut in Peter Jackson's 1994 Heavenly Creatures alongside Kate Winslet (also her debut), Lynskey has been consistently reinforcing many a high profile independent vehicle since then. And while her career certainly hasn't hit the same strides as her old co-star's, Hello I Must Be Going certainly proves her to be an astute, and refreshingly unconventional leading lady, one who captivates and carries this entire film. Depression and heartbreak has never seemed so tenderly wrought as it is in her every expression, tears (and eventually, bashful smiles) always close to making an appearance. Inexplicably, there's a definite sense of chemistry between Lynskey and her liaison with the much younger Abbott (of HBO's Girls), their on-screen romance lending a palpable and overjoyous exuberance to the proceedings. And then there's a delightful performance from the also underrated Blythe Danner, always an elegant presence, but completely at home in a fantastic role for her here. But as good as most of the film is, it still suffers from a too-tidy third act, concluding on an all too familiar note to an already familiar story. With no hearts broken, all hearts mended, Hello I Must Be Going, which takes its title from a Marx brothers' song, should have said goodbye just a titch sooner.