Reviews
How to Survive a Plague | Review
A Hitchhiker's Guide: France's Documentary a Masterful Ode to AIDS Activism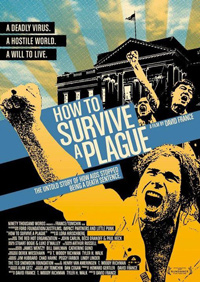 By focusing on the birth of the Activist group ACT UP in 1987, when the United States was already six years into the AIDS epidemic and the crisis was still being largely ignored by the powers that be, documentary filmmaker David France uses this as a jumping board into a massive and overwhelming subject. With How to Survive a Plague, he manages, largely through actual film and media compiled from the period, to streamline the history of the ongoing AIDS crisis, homophobic informed politics, and gay rights while honoring the history of the brave souls that challenged the system in an arduous battle that finally developed a manageable and helpful treatment to those infected. This heartfelt and moving documentary, opening in a particularly hopeful period of time in the ongoing struggle for LGBT American citizens to obtain equal rights, is an excellent film for both those unfamiliar and gay youth uninitiated with the dark days of the AIDS crisis, and the deadly struggle to speak up or die quietly.
Culled from a huge amount of archival footage, France weaves a tapestry with his compilation, creating a comprehensive historical document of the birth and struggle of ACT UP, which began in Greenwich Village in 1987, made up largely of HIV-positive participants who demanded a response from the government and refused to die quietly. What they achieved was, first and foremost, to raise awareness, which quickly involved into the group becoming their own scientists, drug peddlers (the only drug approved by the FDA, known as AZT, cost 10,000 a year per person), promoters, and documentarians.
How to Survive a Plague loosely focuses on several individuals, namely Bob Rafsky a father who came out at 40, once employed by Donald Trump in PR; Mark Harrington, a Harvard graduate who wrote a treatment manual without a background in medicine; and the doggedly perseverant Peter Staley, who, before being infected, was a closeted bond trader on Wall Street. They're shown in many filmed instances and in television clips trying to get their voices heard, creating moments of hostile tensions, such as Rafsky's famed heckling of Bill Clinton which rankled the Democratic nominee enough to make AIDS a national topic during the 1992 election, and then more quietly poignant moments when Ed Bradley asks Staley if he expects to live to see the day when a cure will be found and Staley quietly shakes his head. Of course, there's requisite footage of New York mayor Ed Koch, and Bush Sr. (whose lofty advice to the nation and those in danger of being infected to simply "change their behavior") but Reagan, as absent as he was in addressing the nation until heterosexual lives began to be affected by AIDS, is also largely absent here. This is a story of rebellion, and the real focus is when the community began to band together after being left to pasture for the previous six years.
David France isn't going for a manipulative treatment of his subject matter, but there are very powerful emotional moments on display, perhaps none more moving than a storm of people spreading the ashes of their dead loved ones over the gated lawn of the White House. As each year passes, France includes a running counter of deaths, which, as we all well know, only gets more alarmingly high with each passing year, until, that is, due to the significant decrease of death with the breakthrough of combination therapy.
For those of us that are well informed of the history and the current day situation with both LGBT rights and the AIDS crisis, there's not much to be surprised about in How to Survive a Plague, and some may prefer a more quietly intimate entry to such inexpressibly devastating history, like 2011's We Were Here, which focuses on several individuals while looking at the impact of AIDS in San Francisco. But one cannot discount the importance and power of France's How to Survive a Plague, standing not only as a record of remonstrance and a call to arms for a new generation to pick up the slack in an ongoing battle for not only the possibility of a cure and equal rights, but also as a document that honors those that died unnecessarily before their time, their faces and names lost in vain if this activism were to end.