Reviews
Insidious: Chapter 3 | Review
There Be Demons: Whannell Goes Back to Basics with Third Installment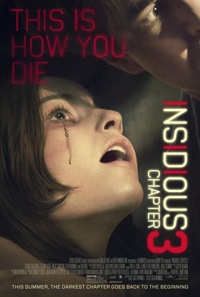 And so we immerse ourselves even further into the vagaries of the Further with the third chapter of James Wan's original 2010 title, Insidious: Chapter 3. A prequel to the events that transpire in the original, screenwriter Leigh Whannell takes directorial credit, making his feature debut with the title. Though the landscape feels a bit too familiar this time around to remain as enjoyably eerie as it was in the first film, Whannell manages to eclipse the messiness of Chapter 2 by dialing it down and revisiting the strengths that made the first film so effective, namely the psychic Elise played adroitly and with great warmth by character actress Lin Shaye. Though comic undertones are blatantly and broadly administered, and, once again, the family in peril suffers from underwhelming characterization, there are several effectively unsettling moments that certainly make it worth your while.
Set several years prior to the haunting of the Lambert family, Elise (Lin Shaye) is visited by a sensitive teenage girl, Quinn (Stefanie Scott). Having lost her mother a year and a half ago, a friend of a friend had recommended Elise as someone that might be able to help Quinn communicate with her dead mother's spirit. However, Elise has professed to have given up her craft. The recent surprise suicide of Elise's husband sent her off to search for him in the 'dark' region of The Further, which attracted the attention of a malignant spirit now threatening to kill Elise whenever she dips into that otherworldly universe. She's unsuccessful in reaching Quinn's mother, and instead another spirit begins to attempt to take Quinn's soul, following her home where it malevolently attacks her. Worried, her father (Dermot Mulroney) tries to involve Elise, as well as a pair of parapsychologists his son finds on the internet, Tucker (Angus Sampson) and Specs (Whannell).
The prequel route has given Whannell a little leverage to play around with possibilities, and so Chapter 3 plays like homage to the talents of Lin Shaye. Whannell's dialogue tends to skate into kitsch, and Shaye's Elise is often thrown into preposterous monologues that somehow the actress still manages to land well enough to wobble on through a scenario that just doesn't feel very innovative anymore ('there are two worlds existing alongside ours,' she explains, 'you can call them the light and dark'). A hungry demon wants to nibble on emotionally vulnerable souls again, and so we run through the same maze of progressive instances all leading to the inevitable denouement of the unwanted spirit.
As the vacuous, nubile vessel, Stefanie Scott manages to be serviceable, at least as far as imperiled white females go. As her bedraggled father, Dermot Mulroney may be just the cool kind of laid back dad you'd want to help with your possession, but he's more distracting than necessary. And as was the case in the first Insidious, the appearance of the buffoonish Tucker and Specs tends to tilt the narrative from thrilling to silly, but as far as third chapters go, Whannell manages to keep things simple and mostly entertaining, even if the demons are a pale comparison to the predecessors haunting the milquetoast Lambert clan.
★★½/☆☆☆☆☆