Spy Hard: Feig's Generally Entertaining Espionage Parody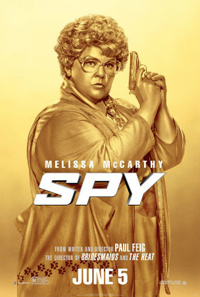 Director Paul Feig does a James Bond send-up for his latest Melissa McCarthy headlined romp, Spy. But for as many laughs as this talented duo is able to generate, its ability to linger in your mind remains questionable. Running a bit long in the tooth, clocking in at two hours and with a handful of scenes and tangents that flat line, a love for the talented and likeable McCarthy will determine audience response to a scenario that's not exactly fresh. Once again, she's saddled with playing the buffoon who comes to learn a thing or two about a thing or two, and it would be nice to escape the creepy feeling wherein it sometimes seems we're supposed to laugh at McCarthy in these illogical scenarios rather than with her.
Susan Cooper (McCarthy) is a deskbound CIA analyst, guiding her field partner Agent Bradley Fine (Jude Law) through dangerous missions from afar. It seems her personal feelings for the handsome agent can be credited with why she's never lived up to her own potential with the agency. But when the identities of all the other field agents are compromised and Fine is killed by Rayna Boyanov (Rose Byrne), the daughter of a nuclear arms dealer, Cooper is activated by her boss, Elaine Crocker (Allison Janney). Irritated his cover has been blown, Agent Rick Ford (Jason Statham) goes rogue and follows Cooper to Paris to assist on his own. However, Cooper proves to be a formidable agent all by herself.
What's most surprising about Spy may be the energy supplied from the supporting cast, particularly Rose Byrne as a bitchy Bulgarian who escapes with the film's most delicious lines. Likewise, Jason Statham as an exaggerated mutation of his intense persona is another unexpected delight. Jude Law as the narcissistic lothario and British actress Miranda Hart are under and over utilized, respectively, and Feig still seems unable to excise bits often ruining the film's overall charm (particularly a cringey bit with Curtis "50 Cent" Jackson). A sexually ambiguous Bobby Cannavale represents the greatest weak point in Feig's scenario, a character actor without the leverage to improvise those generic bits littered throughout the outline of the sometimes uninspired Spy (including the title). McCarthy, as usual, exudes her particular brand of magnetic charm upon which, for better or worse, she's become a studio staple. Who knows how long these broad formulas will continue to be deemed successful, but she remains a welcome distraction from the general nadir of Hollywood summer cinema.
Since the success of 2011's Bridesmaids, Paul Feig has only worked on features starring McCarthy, with continuing plans to do so. However, it is difficult to differentiate between his films starring the actress from those other recent outliers by Seth Gordon (Identity Thief) or Ben Falcone (Tammy), and so it seems Spy is really just one more chapter in a long succession of similarly styled scenarios, albeit one refreshingly calibrated for adult audiences with its R rating.
Though questionable and illogical actions sequences featuring McCarthy tend to distract, we must keep in mind there's no difference between a history of masculine action cinema wherein aging actors like Steven Seagal, Pierce Brosnan, Kevin Costner, Arnold Schwarzeneggar, etc., are equally fantastically 'enhanced' in conflict. One day, in the not too distant future, it would be real neat to see how Feig would fare without his star, and to see McCarthy awarded a role worthy of her extensive talents.
★★½/☆☆☆☆☆