Sorry to Mother You: Shim Takes Familiar Conceits to Logical Conclusions with Innocuous Debut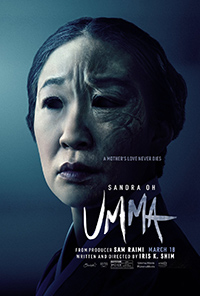 From Aronofsky to Roger Michell, from Pearl S. Buck to Georges Bataille, countless novels, plays and films bear the simple, often sinister title evoking Mother. For her directorial debut, produced by none other than Sam Raimi and Andre Ovredahl, Iris K. Shim brings us Umma, utilizing the Korean word for 'mother' in this supernatural thriller. Never mind there already exists a masterful South Korean film called Mother (2009) from Bong Joon-ho, but here we are in this US set cross-cultural exercise about the need to face one's demons so they won't consume you.
Stacked perilously on one woman's traumatic childhood, Shim's script isn't without some persuasively compelling moments, how psychologically detrimental being a stranger in a strange land can be, especially in the xenophobic landscapes of the United States, for instance. Bolstered by a strong lead performance from the dependably engrossing Sandra Oh, this familiar through line, though culturally specific, relies too heavily upon genre cliches to feel innovative. Still, for fans of Oh and vibrant newcomer Fivel Stewart, there's enough worthy effort to merit examination.
Amanda (Oh) and her sixteen-year-old daughter Chrissy (Stewart) are apiarists on an isolated farm in nowhere USA. Living off the honey they harvest in their home without electricity (it makes Amanda ill), their tranquil life is suddenly upended when Amanda's uncle (Tom Yi) arrives with her dead mother's suitcase from Korea. Having cut herself off from her mother years ago, she's castigated by her uncle for being a bad daughter, leaving behind the suitcase which contains not only her mother's ashes and belongings, but the dead woman's spirit as well. Since Amanda's umma had unfinished business, she's become a 'gwisin,' and will now haunt her daughter, slowly taking over her body. Obviously, this immediately affects Amanda's business, including a gentle relationship with her employee/honey seller (Dermot Mulroney) and her daughter, who is secretly applying for colleges. As the umma's spirit becomes stronger and exacting physical harm upon Amanda, a reckoning between mother and child becomes imminent.
The French fabulist Jean de la Fontaine initially posited "A person often meets his destiny on the road he took to avoid it," and, boiled down, this is the main thrust of Umma, which plays lightly with the irony of how many people eventually morph into the kinds of people they once despised their parents for being. Something like Jennifer Kent's The Babadook (2014) dealt much more elegantly with the concept of having not only to confront but live alongside one's trauma to avoid it consuming you, but Shim brings her narrative to a pat resolution. As a PG-13 supernatural horror film, Umma is unfortunately inert on this front, and one wishes she had leaned into more confrontational moments between Amanda and Chrissy as umma's spirit takes hold. But Oh and Stewart have likable chemistry (enough to get over some superficial nods at codependency), and the revealing sequence where Amanda finally confronts her mother (MeeWha Alana Lee) contains levels of emotion and catharsis absent in the rest of the film (and plays like an elevated moment deserving of an entirely different narrative).
A technically assured exercise, which initially seems to get off on unsettling us with the clomping, stomping and sweeping going on around Amanda's home, eventually segues into some fitting CGI sequences involving Oh morphing into momma. These moments work quite well (while others involving the personification of umma's spirit through a multi-tailed fox do not), and the limited locations are at least utilized effectively by DP Matt Flannery (The Raid, 2011; The Raid 2, 2014).
A bunch of horror alums make serviceable contributions from the crew, including Fede Alvarez's usual composer Roque Banos, while Saw franchise notable Kevin Greutert served as one of the editors. Shim feels least assured with supporting cast members, such as a haltingly monotone Dermot Mulroney and a doe-eyed Odeya Rush, both with little do but serve as sounding boards for Oh and Stewart.
★★/☆☆☆☆☆