Everything Everywhere All at Once | Review
In the Realm of the Senses: The Daniels Explore Meaning in the Eye of the Storm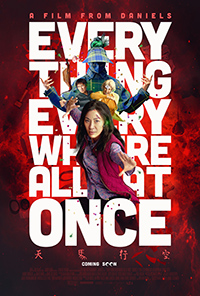 "It's not having what you want, it's wanting what you got," crooned Sheryl Crow in her convivial ditty "Soak Up the Sun," which proposed embracing life's simple pleasures while practicing positive attitudes. At the core of the second offering from the directing duo known as Daniels (Dan Kwan & Daniel Scheinert), Everything Everywhere All at Once, they explore the overwhelming onslaught of the multiverse through the experiences of one woman's enlightenment. The result, described as an interdimensional action film, results in a sci-fi love letter ascribing to the same sentiment broached by Ms. Crow.
To be clear, what the Daniels have concocted ends up being nothing short of a visual and emotional onslaught, a kind of magical transportive experience which can't be rightfully captured or reproduced on paper because it channels the fragile, nebulous essence of creativity and humanity demanding surrender and immersion to its powers. At its center is a humorous, stirring focal point in a storm of chaos from the acclaimed Michelle Yeoh, whose radiant performance will be a quintessential citation in her well-revered oeuvre.
If nothing is certain except death and taxes, never has the latter caused such an existential fissure prior to the dilemma of Evelyn Wang (Yeoh), a stressed out laundromat owner in Simi Valley juggling a treacherous IRS audit, a birthday celebration for the father (James Hong) who exiled her as a young woman, while her marriage to Waymond (Ke Huy Quan) on the verge of divorce, and the introduction of her daughter Joy's (Stephanie Hsu) girlfriend, a white woman named Becky (Tallie Medel), serves as the straw breaking the proverbial camel's back. But it turns out there's an exceptionally strange certainty about to reveal itself to Evelyn when, in the midst of an ornery interview with finicky auditor Deirdre (Jamie Lee Curtis), a version of her husband from an alternate reality (the Alphaverse, to be exact) arrives to inform her the multiverse is facing certain extinction.
Thanks to a black-hole oblivion created by an unhappy villain known as Jobu Tupaki (also Stephanie Hsu), the most resilient version of Evelyn must be found to defeat Jobu, the daughter of Evelyn's parallel persona in the Alphaverse whose mind was splintered to smithereens, allowing her an omnipotent ability in what's known as 'verse jumping,' where complex algorithms allow members of one universe to jump into a certain individual with a desired skill-set in another. While Evelyn is Initially incredulous, when all hell breaks loose at the IRS office, she's forced to follow in the footsteps of her alternate husband and face off with Jobu Tupaki, eventually discovering the answer to defeating her may exist in the very realm she's taken for granted.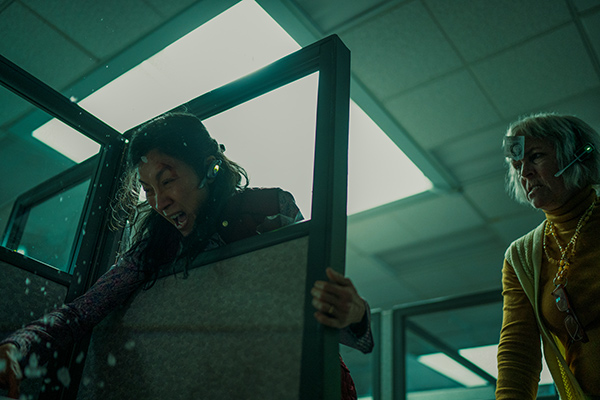 Not that Michelle Yeoh's iconicity was ever really impugned, but Everything Everywhere All at Once arguably bests her greatest hits (among them a handful of notable titles scoring acclaim in the West, like Crouching Tiger, Hidden Dragon and Crazy Rich Asians). From the first to final frame, through a myriad of alternate versions of Evelyn (including a universe where she is also Michelle Yeoh), she moves from charmingly irascible sourpuss to dauntless Amazonian mama bear. At her side is Ke Huy Quan, whose vocal patterns will send movie lovers of a certain age straight down a path of nostalgic bliss thanks to his seminal performances in The Goonies and Indiana Jones and the Temple of Doom. But the Daniels resists the fatal temptation of nostalgia in a film which stridently proclaims the necessity of dealing with trauma, guilt and shame head-on in order to navigate the present. The grass is always greener, it would seem, but as with woefully proclaiming the splendor of the good old days, the allure of all that was overshadows the cracks and dilemmas which always coexisted alongside the best of times. Eventually, all the bells and whistles of their gonzo take on the multiverse leads back to the 'reality' of Evelyn/Michelle as a small business owner who has forgotten to see the 'joy' right in front of her.
Although less utilized than either of the actors playing her parents, Stephanie Hsu excels in the film's most poignant moments, where the silly collapses into the sublime. Adding some formidable levity is Jamie Lee Curtis as Deirdre Beaubiedre, an ornery IRS tax auditor who seems to have it out for the Wangs. With slouchy posture, a poochy belly and a hack-job of a hair-do, Curtis is gleefully repellant, but also beautifully humane by the film's end credits (her contributions to a 'humans with hot-dog fingers universe' is one of several brilliant bits featuring the unabashedly audacious performer). Several other recognizable faces have strong moments, with Jenny Slate as an obnoxious laundromat customer (who wields a Pomeranian fiercely), while the classic James Hong is a joy as Yeoh's father.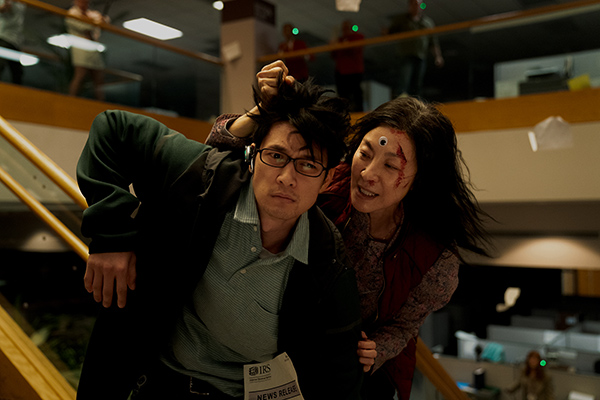 In a world where, overwhelmingly, English language cinema has resorted to placation escapism, the Daniels have once again concocted something refreshingly glorious with their rare ability to address the Sisyphean onslaught of human existence and subsequent lurking despair while also poking fun at the absurdity of their creation and human nature. Repeated visual gags and tangential sub-universes yield extremely goofy but somehow brilliantly meaningful asides, such as an aforementioned world where humans have giant hot-dog shaped fingers (who even get an evolutionary origin story), or an uninhabitable world of commiserating rocks. It avoids a certain sense of schmaltz and a relief from the maudlin slog of day-to-day existence to showcase survival despite the odds in an apathetic world, and embraces those fleeting speckles of joy which we hold out for valiantly, whether we want to admit it or not.
It's an incredibly cathartic film in its ability to navigate from laughter to tears within the briefest of pivots, not unlike their 2016 debut Swiss Army Man (of note, Dan S. directed the solo effort The Death of Dick Long in 2019, taken from the pages of zoophilia, and one wonders if he supplies the bleak streak in their collaborations). In short, their latest is a film which just might inspire you to give yourself a hug—or maybe run to the nearest craft store for a passel of googly eyes.
★★★★½/☆☆☆☆☆