Reviews
Kung Fu Master! (Le petit amour) | Varda Retrospective Review
Oedipus at the Arcade: Varda's Empathetic Exploration of Taboo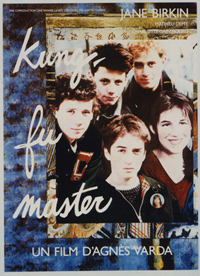 Invariably, most conversations concerning Agnes Varda, the sole female auteur amongst the prized clutch of men whose names project like immortal pillars from the fog of the Nouvelle Vague, reference her two most renowned titles, Cleo From 5 to 7 (1962) and Vagabond (1985). But in-between and after these two iconic moments from her filmography lies a sea of titles waiting to be re-discovered (a recent disc-set from Criterion's Eclipse series several weeks ago was a first step in exploring her more obscure works).
Boutique distributor Cinelicious Pics continues in this vein with two digital restorations of Varda's from 1988, both inextricably linked via star Jane Birkin (after a theatrical bow in New York, both titles will move on to Los Angeles). The more textually subversive of these is Kung Fu Master!, a sympathetic tale of doomed love between a 40-year-old woman and a 15-year-old boy made all the more significant for its saturation of actual interconnected families involved with the making of the film.
Mary-Jane (Birkin) meets the young boy Julien (Mathieu Demy) at a birthday celebration for her daughter Lucy (Charlotte Gainsbourg), a class-mate of his. He's consumed too much alcohol and needs help making himself sick in her bathroom while she tends to the needs of her younger daughter, Lou (Lou Doillon). Dismayed at his irresponsibility, she's fascinated by the young boy, and finds herself lingering near her daughter's school to catch a glimpse of him. As fate would have it, she nearly runs him over, and after bringing Julien to an arcade where he teaches her all about the joys of his favorite video game Kung Fu Master!, the two find a reason to keep interacting, whether or not Lucy is around. Eventually, Julien makes a boundary crossing motion that Mary-Jane surprisingly welcomes, and much to the chagrin of (nearly) everyone around them, they embark on an affair.
With the just the touch of melancholy and wistful longing, Varda skirts around controversy afforded similarly themed films throughout cinematic history, where titles like Louis Malle's Murmur of the Heart (1971) or Bertolucci's Luna (1979) benefited or sank from the substantial furor surrounding explicit depictions of incest and intergenerational romance (otherwise known as statutory rape to the English, as Gainsbourg points out here).
Jane Birkin, perhaps the most famous of cinematic expatriate icons, is quite believable as a lonely, isolated woman whose curiosity for the young boy's attention allows for this taboo affair to transpire. It's not so much sexual desire, something Varda's film leaves to the imagination, but more the fascination and innocence her Mary-Jane is attracted to.
In the decades since this, several films have tread over similar interactions, like Nicole Holofcener's Lovely and Amazing (2001) and Gary Winick's Tadpole (2000). The actors playing her daughters in the film are the real life offspring of Birkin—Charlotte Gainsbourg (whose father is singer Serge Gainsbourg) and a very young Lou Doillon (the model/actress daughter of director Jacques Doillon). And, perhaps most curious of all is the young Mathieu Demy, son of Varda and director Jacques Demy, engaged in the portrayal of very sensitive subject matter (something Coppola and Argento would both be criticized heavily for when featuring their daughters in graphic sequences of a sexual nature) presented, arguably, as tastefully as possible.
Also known as Le petit amour, the film premiered in competition at the Berlin Film Festival, and since sank into oblivion. Filmed by DoP Pierre-Laurent Chenieux (more often a camera operator, but in his own notable list of cinematography credits he also lensed Varda's Jane B. for Agnes V. right before serving as DoP on Zulawski's filmed version of Hungarian opera Boris Godounov in 1989) captures a distinct mixture of teenage angst and suburban malaise in Varda's winning mix of discomfort and innocent fantasy. It's with great pleasure to see the title available for consumption once again.
★★★½/☆☆☆☆☆