The Power of the Dog | Review
Dog Days Aren't Over: Campion Returns with Menacing Gothic Western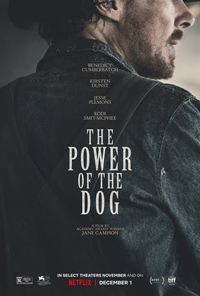 Although Jane Campion's work in television has created an innovative and expansive platform for the auteur with her two seasons of "Top of the Lake," it's been twelve years since she's mounted a theatrical narrative feature, the last being 2009's Bright Star. With The Power of the Dog, the Palme d'Or winner notably returns to her favored parameter of the period piece, but perhaps even more noteworthy, makes her first stridently masculine focal point in this adaptation of the Thomas Savage novel. Arguably an ensemble piece, especially considering the quartet of principles are each shouldering significant secrets which lends them an insular, cold aesthetic, it's a poetic, sexually charged odyssey of menace in the vein of Faulkner and Laughton's classic The Night of the Hunter (1955).
Montana, 1925. Two brothers operate a cattle ranch they've inherited from their parents, a pair referred to dismissively as the Old Man and the Old Lady. Neither of them seem terribly interested in what their sons are up to. George (Jessie Plemons) is an educated man, interested in breaking through into local society as a necessity for success. He's at odds with his brother Phil (Benedict Cumberbatch), a hellion of a man who takes care of the labor required to operate the ranch. On an excursion to Beech, Montana, a run in with Rose (Kirsten Dunst), a widow who runs a restaurant with her teen son Peter (Kodi Smit-McPhee), proves detrimental. While George takes a liking to the forlorn woman, Phil expresses vociferous disdain for her effete son, who aims to follow in his dead father's footsteps as a doctor. Eventually, when all four of them are under the same roof, secrets, needs, desires and resentments proliferate.
The title, as the denouement directly references, is an allusion to Psalm 22:20, "Deliver my soul from the sword; my darling from the power of the dog." In a Biblical context, the character David refers to his enemies as dogs, animals viewed as base scavengers. A more obvious reference might have been "the meek shall inherit the earth," considering the menacing dance between Phil and Peter, ripe with secretive seductions made dangerous by the virulence of homophobia.
Campion dances around the sexual tension, but it's clear Phil's allegiance to his dead master, the local legend known as Bronco Henry, runs deeper than any of these character's could rightfully articulate. If Faulkner's sense of the Southern Gothic comes to mind in this 1920's Montana farming tale, so do the hothouse dynamics of classic Tennessee Williams, for Rose is clearly a woman depending on the kindness of strangers following her husband's suicide, a noted doctor whose own influences on his son have created a different kind of sociopathic tendency. Kirsten Dunst is magnificently bedraggled as a faded beauty besotted by the bottle, and Campion's use of her recalls pre-Code Jean Harlow's tendency for iniquity. Notably (as far as Campion goes), a piano also underscores her identity, an instrument from her 'cinematic' past which becomes not only an expectation as a trophy wife but a method for Phil to demean her worth.
A host of noted supporting characters filter in here, from Keith Carradine as a classic superficial prototype as a Governor, Frances Conroy as a chilly mother, and even Thomasin McKenzie, a dash of light in the darkness as an innocent maid. Plemons plays like a youthful Orson Welles who isn't trying to hog the screen time, but a viciously manipulative Cumberbatch surprises most. Reptilian and transfixing, he's an obnoxious bully with his own deeply buried issues, but his sinister presence, underlined by an equally unnerving score from Jonny Greenwood, is the driving force. It's clear Phil has rejected the ways of polite society in an effort to scavenge for his own clandestine pleasures he was taught (and groomed for) by his dead idol.
Hints of the dysfunction fostered by the brothers' parents crops up through mentions of troubling memories suggesting heteronormative's silently acknowledged underbelly of misogyny. Kodi Smit-McPhee has played these types of willowy young men before (including in another revisionist western, Slow West), although never defined as despairingly by his character's potential sexual orientation. By the time we get to a detrimental rope, it's like Phil's materialized twine weaved by the Fates, appearing as it's tether is doomed to wither. Beautifully shot by Ari Wegner (In Fabric, Zola, and Lady Macbeth), this is Campion at her darkest, at least as far as her narrative filmmaking goes.
Reviewed on September 2nd at the 2021 Venice Film Festival – Main Competition. 128 Mins
★★★½/☆☆☆☆☆