A Tale of Ordinary Madness: Bravo Delivers a Cinematic Unicorn – Zola [Video Review]
A Tale of Ordinary Madness: Bravo Delivers a Cinematic Unicorn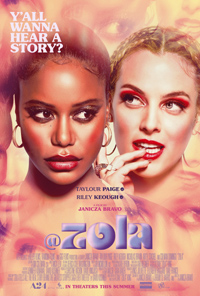 Cinematic innovators are few and far between, but a blazing hot anomaly is revealed in Janicza Bravo's sophomore film, Zola. While the surname may recall the classic French novelist, whose signature 'theatrical naturalism' could be contemporaneously applied to Bravo (in a film which feels like the surreal comedic progeny of Nana), it's instead a reimagination of a 2015 viral twitter thread which nabbed headlines wherein a stripper Aziah "Zola" King revealed the sordid details of her frenetic run-in with a stripper who attempted to dupe her into sex work.
While those familiar with the attention-grabbing original story, David Kushner's Rolling Stone article threw a wrench into King's claims. To stand the tests of time is Bravo's idiosyncratic recount in this instance of cinema bizarre, where truth may always be stranger than fiction, even if it's exaggerated. A formidably entertaining cast helps cement Bravo's reputation (see her equally original 2017 debut, Lemon) as one of the most intensely interesting American filmmakers today.
"You wanna hear a story," begins this tempestuous tale of friendship and betrayal as relayed by Zola (Taylour Paige) about her whirlwind friendship with Stefani (Riley Keough). While waitressing one day, Zola happens upon Stefani and the two young women enthusiastically bond over pole dancing. After the two women cement their camaraderie over a dancing shift, Stefani invites Zola on a cross country trip to make bank at Florida strip clubs where she claims to have the hook-up. Zola agrees, but is immediately dismayed when she discovers they'll be accompanied by Stefani's 'roommate' (Colman Domingo) and boyfriend Derek (Nicholas Braun). Upon arrival in Florida, she discovers this crew has ulterior motives.
The script from Jeremy O. Harris provides a zany, jangling skeleton of King's recount, as seen through the eyes of an intoxicating Taylour Paige (who makes good on those supporting roles in Ma Rainey's Black Bottom and Boogie to blaze across the screen here). There's an immediate underlying menace to the introduction of Zola and Stefani, like all those 90s lesbian killing couples, set to Micah Levi's (Under the Skin; Jackie) score, which also channels Tony Scott's True Romance (1993). Their honeymoon period quickly slides away, however, by the time their ill-fated road trip enters the Sunshine State and Zola's already weary of Stefani's exuberance.
Nicholas Braun as her needy boyfriend Derek, provides more broad comedic elements, while a sinister Colman Domingo reveals his identity (and alternative persona) as the strip joint turns into a hotel room where the two young women are expected to prostitute themselves through the night. The often stoic, but ever-versatile Domingo gets to let loose in revealing a hyperkinetic side as a pimp worthy of David Lynch, whose weirdness recalls the heavily stylized elements of a Dennis Hopper or Dean Stockwell in Blue Velvet (1986). But the film's swagger oscillates between Page and Riley Keough, the latter a formidable blot of cultural appropriation who delivers her finest hour to date as the ultra-manipulative Stefani.
Shot by Ari Wegner (Lady Macbeth; In Fabric), it's a sweet dream turned beautiful nightmare of a film, wherein all that glitters most certainly is not gold. Brief roles for Ts Madison and Jason Mitchell assist in the film's considerably strange and energetic tapestry to conjure a road trip worthy of the zeitgeist social media moment upon which it's inspired.
★★★★/☆☆☆☆☆