Cold Day in the Park: Garrel's Green Monster in Black and White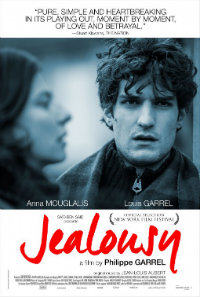 Director Philippe Garrel returns to his prized black and white format for a somewhat cohesive narrative exploring the titular emotion, Jealousy. Reuniting with son Louis Garrel, the film is informed by several familial experiences, whereby the young Garrel is actually reenacting moments from his own grandfather's life. As meta as this promises to be, as is customary with Garrel, a focus on sharply observed and seemingly banal incidents are threaded together to somewhat clinical, disconnected effect, as if to experimentally dismantle the passionate fury fueling familial and romantic relationships. The end result is a mixed bag of visually articulate highpoints amidst of sea of stagnant moments.
A teary woman, Clothilde (Rebecca Covenant), begs her spouse Louis, (Louis Garrel) not to leave as their daughter Charlotte (Olga Milshtein) watches through a key hole. It's the end of their relationship, and we follow Louis, a sometimes working actor as he finds a new apartment and a new relationship with Claudia (Anna Mouglalis). It turns out that Claudia is an actress of some renown, although she hasn't actually worked in the past six years, suffering through a constant stream of false starts and let downs, exacerbating her rather sensitive demeanor and flawed self-image. While their relationship begins passionately and they move in together, leading Claudia to meet and bond with young Charlotte, realistic problems soon plague them, leading to a drastic scenario.
Divided into chapters titled "I looked after angels" and "sparks in a powder keg," the passion promised by such words seemingly transpires off-screen. Declarations of love and need are declared between characters, but much like the eponymous emotion, these feelings are veiled in face to face interaction. We can tell Clothilde is angry about Louis leaving, yet she politely quizzes her daughter about what it was like to meet dad's new girlfriend. "Do we tell each other if we cheat?" Louis asks Claudia. The complicated nature of such navigations in a developing relationship seems too much for her, as she tiredly insists that "I just need you to love me," even as her eventual actions indicate she clearly doesn't believe this herself.
Jealousy is an entirely austere exercise, its characters engaging in similar relationship dynamics as seen in Garrel's previous, much less celebrated exercise, A Burning Hot Summer. While the former was filmed in color, both films are equally cold explorations of zealous agitations that provide pleasures as equally as terrible tragedy. Garrel also utilizes DP Willy Kurant, a remnant of the Nouvelle Vague who worked on classic titles from Godard, Varda, and Pialat, and Jealousy that stands out as a classically inclined observation.
It's hard not to want more from the rather oblique relationship between Claudia and Garrel, considering their ragtag dynamic is similar to dozens of vintage examples, perhaps as ill-fated and professionally coincidental as the two lovers from Truffaut's Shoot the Piano Player, at the end of which Marie Dubois gives Charles Aznavour sound advice as to when he should potentially leave their romance behind. Mouglalis is, as always, an arresting figure on screen, her customary low growl kept in check. Philippe Garrel has utilized his son several times now, and Louis feels like a familiar cypher for his father's familiar ideas and themes, though the casting of sister Esther Garrel as Louis' onscreen sister makes for some more fascinating ripples.
★★★/☆☆☆☆☆