Eyes Without Versace: McHale Explores the Cult of Camp with Doc Debut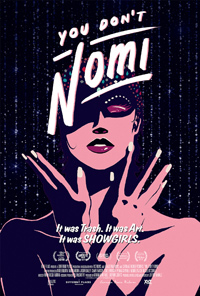 What constitutes camp and how it can be created has long been an argument, at least pertaining to whether such a thing as camp sensibility is even possible if camp is something only generated from a failed attempt at seriousness. The enjoyment of camp is recognizing how something failed to achieve what it set out to do, and the strange results which are priceless only because they were purely accidental.
The alchemy of cinema would seem to dictate such flawed items to be the real cinematic gems, celluloid diamonds hewn from the passionate clashing of creative tastes and consumer desires, and thus their defects making them more valuable than a first glance would suggest. Director Jeffrey McHale attempts to examine these same concerns in his debut, which plumbs the depths of Paul Verhoeven's 1995 film Showgirls with a fan-infused display of affection in the documentary You Don't Nomi.
McHale attempts to navigate a three-tiered approach of the film's reception, beginning with the general consensus of the film being 'a piece of shit,' then swaying decades later into 'a masterpiece,' and finally embraced for what it really is, 'a masterpiece of shit.' McHale dispels with the talking heads trap by allowing the purveyors of the film's merits to provide narration, disembodied voices drifting over a hodgepodge of clips from Verhoeven's complete filmography, each designed as in interplay in the conversation of Showgirls (which borrows from Rodney Ascher's 2012 doc Room 237 in the playfulness between The Shining and other Kubrick films).

Tasty bits from David Schmader, who was responsible for developing the strong midnight movie following of Showgirls, tends to fare better than actress April Kidwell's painful personal traumas which formulated her own catharsis and eventual persona in stage satires of both Showgirls and Elizabeth Berkley's "Saved by the Bell" character.
Since none of the principals participated in You Don't Nomi, only present as snippets from archival interviews from both past and present, McHale manages what amounts to a fervent homage to an underrated camp gem (as one participant puts it, it's the third film a perfect camp trilogy which includes Valley of the Dolls and Mommie Dearest) while its examination of Verhoeven's motifs and a tropes reaching a kind of Cinematic Interpretation 101 vibe.
Critical of some of the film's faults, including its Black characters, it would have behooved McHale to include more intensive readings of this, particularly from a Black woman, especially since a queer reading of the film is included. Still, for fans of what Ascher did in Room 237, or even the more academic approach Noah Baumbach and Jake Paltrow utilized in their 2015 homage De Palma, McHale manages to mainline what makes Showgirls so compelling in the first place, at least enough to have you salivating to revisit it again immediately afterwards.
★★★/☆☆☆☆☆