Portrait of Jenny: Heigl's Performance Buoys Social Issue Context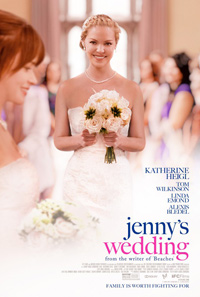 There are several aspects to admire in Mary Agnes Donoghue's sophomore directorial effort, Jenny's Wedding, her first foray into directing since the 1991 Melanie Griffith film, Paradise. It's most improbable facets are actually its assets, namely a warm central performance from Katherine Heigl as a lesbian who comes out to her wanly conservative nuclear family by announcing her marriage. A film such as this one could've had the opportunity to make an indelible mark on the American indie landscape had it been released seven to ten years prior, when the United States was coming out from underneath the shadows of the Bush Regime and the LGBT community was in dire need of positive cinematic depictions meant to inspire hope in the eventuality of equality from the likes of trending, A-list actors at their peak.
Though this filmed before this year's landmark Supreme Court Decision allowing same-sex couples to rightfully marry across the entire country, Donoghue straddles an awkward divide with a film saying too little too late. Sure, positive depictions of gay couples struggling for acceptance will always be necessary, but the film has a rather toothless, easily won objective, not unlike the lines of something like Jodie Foster's coming out speech at the 2013 Golden Globe Awards. It's a film arriving on a crest of general goodwill, but hardly hits the marks it should have with such a basic story which has all the attributes of a vintage PSA from PFLAG.
Jenny (Heigl) is an openly gay woman to everyone except her family. While home for a family function, she tires of the usual charade, irritated at her older brother (Matthew Metzger) trying to introduce her to his friend, her younger sister Anne's (Grace Gummer) usual chiding, and her parents' (Linda Emond, Tom Wilkinson) general inquiries into her love life. Admitting she's seeing someone, her continued secrecy leads all to speculate she's dating a married man, eventually leading her to finally admit she's engaged to the woman they've all known as her roommate, Kitty (Alexis Bledel). This sets off considerable distress amongst the family members, bringing past resentments to the present discomfort.
Like many films depicting lesbian relationships performed by notable actors, Jenny's Wedding lacks intimacy and interiority in the dynamic of the central relationship (Todd Haynes' Cannes favorite Carol is also a victim of this coldness, which also proves naked flesh does not qualify as the essence of lust). True, the film is more about the reaction of Jenny's family member to her orientation, but it would've helped immensely to have Alexis Bledel's Kitty imbued with some kind of substance granting her chemistry with Heigl. Instead, she's a blue-eyed kewpie doll who may as well be styled for "Gilmore Girls: The College Years."
In the same breath, it's important to keep in mind Katherine Heigl makes quite an impression here (it's her third offbeat indie performance this year, following Home Sweet Hell and Jackie & Ryan), and had this premiered in the midst of the 27 Dresses (2008) hullaballoo and a mess of other toxic studio flicks eventually stilting her reputation and credibility, Jenny's Wedding might have been a film to celebrate. But Donoghue hobbles any resonance by extreme pandering. When Heigl finally stands up to her mother and announces she will no longer lie about who she is, we get a blast of the edifying chorus from Mackelmore's "Same Love" track. This same emotionally manipulative tethering becomes blatant throughout similar interactions for the remainder of the film, a pity considering character actress Linda Emond and (despite an increasingly obnoxious dead grass metaphor) Grace Gummer (Meryl's other acting daughter) manage to be quite effective.
Tom Wilkinson is dependable as the gruff father figure, but it's hard not to recall a much more worthwhile film starring Wilkinson from 2003, the HBO production Normal, in which he gives a marvelous performance as a man who announces his plans for sex reassignment surgery to wife Jessica Lange. But, for those who don't mind squarely predetermined films prone to preaching to the choir, Jenny's Wedding won't disappoint.
★★/☆☆☆☆☆