Jersey Show: Eastwood Plays It Safe with Broadway Adaptation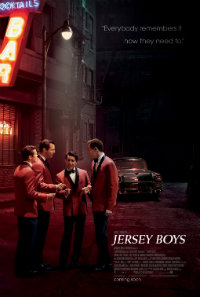 While it earns a great deal of credibility due to the retention of several notable cast members that originated their roles on Broadway, Clint Eastwood's cinematic treatment of musical Jersey Boys plays it safe in nearly every possible regard. Hardly the musical extravaganza those unfamiliar with the source material may be expecting, it is neither a very clearly nuanced effort at relating anything in depth about Franki Valli and his Four Seasons. Instead, it's more like a blandly realized version of what one would expect to see on stage, with a screenplay that does little to enhance anything beyond moderately digestible clichés (something quite surprising to note when one of the co-writers is Marshall Brickman, who penned Woody Allen's Annie Hall and Manhattan).
In 1960s New Jersey, Tommy DeVito (Vincent Piazza) pals around with his younger buddy, Frankie (John Lloyd Young), a significant singing talent that Tommy and local mob character Gyp DeCarlo (Christopher Walken) seem keen on fostering into something greater. Tommy's got a band, but his penchant for petty crime lands him in and out of jail quite frequently. His decision to make Frankie part of the band seems to head them in the right direction, but when another friend, Joe Pesci (Joseph Russo—yes, playing that Joe Pesci) introduces them to singer/songwriter Bob Gaudio (Erich Bergen), the group really starts to coalesce. With the help of flamboyant music producer Bob Crewe (Mike Doyle), the newly coined The Four Seasons score their first hit with "Sherry," which catapults Frankie Valli into the public eye.
Even though the vibrant energy of The Four Seasons' music certainly enlivens the tone of Jersey Boys with each introduction of another of their classics, this is due solely to the magnificence of the tracks themselves rather than how they're used within the film. There really isn't any kind of inspiration, seemingly, behind the tracks. A hit is needed and, suddenly, another Bob Gaudio penned hit makes an entrance, with the exception of the idea behind "Big Girls Don't Cry," which we're meant to understand was birthed while watching Jan Sterling get slapped around by Michael Douglas in a famous scene from Ace in the Hole (1951). Likewise, the four band members aren't ever really developed at all, especially if those members don't happen to be Frankie Valli. Intermittent asides from several characters as they speak directly to the audience seem an easy crutch, a way to quickly garble through all the info the ungainly film can't quite make time for.
Michael Lomenda and Vincent Piazza are ham-fisted caricatures as Nick Massi and Tommy DeVito—one keeps expecting a line to pop up like, "You can take the boy out of Jersey, but…" As Valli, there's absolutely no doubt that John Lloyd Young is an incredible singing talent. But, especially during the first half of the film, he develops an affect that looks and sounds like Adam Sandler doing a Robert De Niro impression. Unsurprisingly, Christopher Walken is a delightful accent as a loveable mafia type, even enlivening a cornball mediation with aplomb.
Eastwood, whose last film was 2011's J.Edgar, a rather stale affair concerning the infamous head of the FBI, seemed to be uncomfortable with directly addressing the unavoidable issue of homosexuality. Here again, Eastwood seems almost begrudging with this uncomfortable presentation of Mike Doyle's sashay into the frame as music producer Bob Crewe. A quick aside about Liberace and the ignorance of the times are laughingly brushed away and out of sight. "Everybody remembers it how they need to," swings several ways, it seems. A similar distancing around Valli's personal life is also evident, the tragic death of his daughter sweeping through this trifle like an infection that's quickly cleared away by the swoozy entrance of "Can't Take My Eyes Off You."
For the past decade, including all the hits and misses, Eastwood seems a capable director that doesn't ever seem to want to move beyond the basics of whatever material he's working with. And so, Jersey Boys is his latest achievement, another workmanlike product that marches on through stereotypes and cliché with brazen fortitude.
Reviewed on June 19 at the 2014 Los Angeles Film Festival – Closing Night Film.
★★½/☆☆☆☆☆