The Tragedy of Macbeth | Review
O Brother Wherefore Art Thou: Joel Cohen's Stunning Solo Shakespeare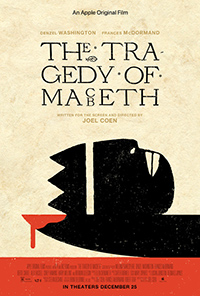 Joel Coen's first solo effort as director sans brother Ethan is visually sumptuous, visceral Shakespeare: a singular adaptation of The Scottish Play that lingers on the psyche like an indelible spot. More of a graphic novel adaptation than a film or stage play, The Tragedy of Macbeth devotes itself to turning the Bard's verse into imagery instead of building empathy for its characters; the film is by no means devoid of emotion, but it's undeniably austere in its dedication to aesthetics—more Robert Eggers' The Lighthouse than Justin Kurzel's Macbeth (2015). Viewers observe this film from a distance like art in a museum, where finely-wrought details gradually reveal inner lives. However: no film is ever truly "solo" or "singular" – and here, without question, phenomenal performances plus off-camera artistry help this Macbeth soar.
Theatrics are rich and personalities shine. Frances McDormand (a smoldering Lady Macbeth) flaps her hands like wings; Denzel Washington (a combustible Scottish war-hero, aka Lord Macbeth, Thane of Cawdor) mutters cocksure accusations; Stephen Root, the drunk porter, is hilarious in iambic pentameter; Corey Hawkins and Moses Ingram ooze swagger and pathos as Lord & Lady Macduff—but the real drama kicks in when shape-shifting witches (equal parts Nazgûl and Smeagol, each played by scene-stealing Kathryn Hunter) offer prophetic words to Macbeth: "Thou shalt be king hereafter." When he shares this prediction with his Machiavellian superior, Lady Macbeth, it sets them both on a perilous path of betrayal, guilt and madness. One murder leads to the next; Coen and his cast thrive; Shakespeare's words resonate. It almost feels as if the entire play could be seen from the witches' perspective, ravens hovering amidst smoke, felt even in scenes where they're not present: an ominous lens on humanity's unslaked thirst for power.

But don't overthink the symbolism: prophecies can be misleading. Coen, a master filmmaker—along with cinematographer Bruno Delbonnel, production designer Stefan Dechant and costume designer Nancy Haig—uses his visual flourishes for mood-setting. Think the obsessive attention to detail of Zack Snyder's 300, but with the chiaroscuro of F.W. Murnau, the architectural angles of MC Escher and the layered textures of Throne of Blood. The result is a powerful series of kinetic paintings, tableaux vivants that epitomize these unraveling characters. Plus rhythmically immersive sound design and a haunting score by Carter Burwell, all in minor keys.
In sum, this is a film in boldface. Like much of Coen's oeuvre, The Tragedy of Macbeth refracts mankind's tortured history with trancelike, elemental beauty and immaculate attention to detail. There's enough Game of Thrones to appeal to first timers, but the uninitiated may need repeat viewings for full comprehension. In the meantime, expect to be racked by glowering faces, jolted by sudden blood, pierced by light, shadow, fever and flame—i.e., heightened drama that would amuse the Bard himself. Is this more art than movie? In its best moments, it's both.
Reviewed on September 24th at the 2021 New York Film Festival – Main Slate. 105 Minutes.
★★★★/☆☆☆☆☆