Great Expectations: Wysocki's Debut a Loving Homage to the Dog Days of Highschool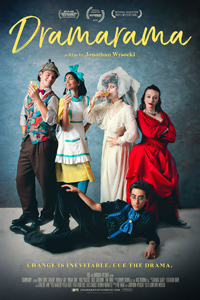 For those well-versed in indie queer cinema, a major template and through line which permeates many a narrative is how its central characters navigate the trauma of coming out, a universality which allows for immediate empathy among intended audiences while also serving as a learning tool for heterosexual counterparts. As such, it's often difficult to construct a canon of indie queer cinema, as each generation heralds a select few titles (1998's Edge of Seventeen vs. 2018's Love Simon, for instance) which serve either as time capsules or throwbacks.
Every now and again, something thoroughly complex comes along which paints a recuperative portrait, such as Jonathan Wysocki's poignant debut Dramarama, which takes place in 1994 Escondido as a group of theater kids spend their last night together before their varying freshmen year plans will transition them to futures destined to force their friendships apart. Foregoing nostalgia for piquant verisimilitude, it's a forthcoming portrait of budding desires and teenage cognizance which likely wouldn't have been possible in 1994, at least with such prowess and poignancy not curtailed or overwhelmed by trauma.
It was 1994 and the world was changing. Or, at least it would be irrevocably for Gene (Nick Pugliese). Shirking his mother's insistence on going to church, Gene readies himself for a murder mystery party being hosted by Rose (Anna Grace Barlow), the last hurrah for this tight knit group of Christian drama students just as they're all about to enter freshman year at various universities. All except Gene, that is, who is instead staying behind in Escondido to attend community college. Gene is also ready to let the world know he's gay, but has reservations about letting his friends know, fearing their rejection, is hampering his mood on their last night together. The evening starts out fine enough, with the game transpiring once everyone arrives, including the prudish Claire (Megan Suri), the open-minded Ally (Danielle Kay) and the self-centered Oscar (Nico Greetham). But when someone seemingly sabotages Rose's elaborate game, and pizza deliveryman JD (Zak Henri) kills their buzz with his pretentiousness and cynicism, the friend group is left to ponder what's connecting them all in the first place.


One doesn't have to have been involved in high school musical theater to appreciate the finely drawn characterizations of Dramarama, which executes with finesse what a John Hughes movie might have looked like had positive portrayals of LGBTQ+ youth been possible for mainstream consumption in the 1980s. Funny and touching, the emotional peaks and valleys between five friends, who are all either in competition with one another or nursing secret desires, allows for their authentic finale to play out like Paul Zindel's version of dramatic personalities spiked with mini-explosions of vehemence and resentment.
Although Gene is the central figure, Wysocki allows for a well-rounded ensemble vibe, with each performer and character allowed their own shining moment. Nick Pugliese is touching in his on-screen debut, but Anna Grace Barlow is a constant constellation of interests and energies as the party host and gracious but romantically taciturn Rose.
Wysocki grants his quintet a loquacious energy which is both intellectual and sweetly naive, and Gene's stumbling on his coming out by first revealing his burgeoning agonistic attitudes is as believable as it is funny. Much like seriocomic period pieces exploring female sexuality breaking free from puritanical conditioning (both Gerwig's Ladybird and Natalia Dyer's Yes, God, Yes fit this tradition of recuperating the realities of recent but earlier eras), Wysocki casts a loving, meaningful glance at what must have been an evening as bittersweet as it was unforgettable.
★★★★/☆☆☆☆☆
Reviewed virtually on August 31st at the 2020 Outfest Film Festival. – 91 Mins.