Top Gun: Maverick | Review
Take My Guilt Away: Kosinski Avoids Cruise Control in Enjoyable Action Sequel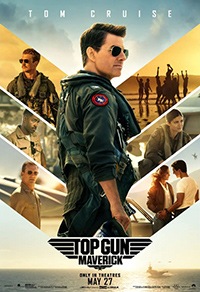 Against all odds, especially considering how unnecessary a sequel seems to be thirty-five years (and some change) after the surprise success of Tony Scott's 1986 original, Top Gun: Maverick is an anomalous example of how nostalgic intentions can yield entertaining results. Constructed by several alums from Tom Cruise's empire, including director Joseph Kosinski (who helmed the actor's sci-fi film Oblivion in 2013) and his favorite director/screenwriter, Christopher McQuarrie as co-writer (joining Ehren Kruger and Eric Warren Smith), it's a trip down memory lane with one of the celebrity's first major box office bonanzas.
As a sequel, it smartly pivots away from the fluffiness of the first film, which notably had a lack of a dramatic catalyst and a forced romantic subplot. Yet so iconic was the 1986 soundtrack, we have Kenny Loggins "Danger Zone" reintroducing the film over the repeated introductory insert explaining the implementation of the US Navy Strike Fighter Tactics Instructor Program, nicknamed Top Gun by its participants. A lot has changed in the world of the Navy's aviation implements and technological advancements which have reclassified some of this training as obsolete. And yet so little has changed in our reverence for an untamable rebel refusing to follow orders.
Captain Pete "Maverick" Mitchell (Cruise) finds the Navy is about to pull funds on the current program in which he's employed. On the eve of testing Mach 9 capabilities on a brand new flight model, an ornery Admiral (Ed Harris) cancels the exercise. But Maverick defies the order, pushing the machine past Mach 10, ultimately overheating the aircraft, which falls apart mid-air. Before he can be reprimanded, Maverick is requested at the behest of his old friend, Iceman (Val Kilmer), now in command of the US Pacific Fleet, to run an emergency training session amongst the top ranking graduates of recent Top Gun programs. It appears a foreign entity has an unsanctioned reserve of Uranium about to be used for nefarious reasons. How the chemical element is being stored requires the use of older aircraft equipment, namely the F18s Maverick trained on. With only three weeks to get the recruits trained for an impossible mission, everything starts to fall apart as time goes on, partially due to Maverick's distraction in training Rooster (Miles Teller), the son of his dead best friend Goose, killed in a training exercise over thirty years ago. Rooster holds a distinct contempt for Maverick, who also he knows was responsible for delaying his professional trajectory by withholding his file at the Naval Academy.
Tony Scott's Top Gun was the director's sophomore film, a hard swerve away from the failure of his first (and best film), the exceptional arthouse vampire horror film, The Hunger (1983). The success of Top Gun would send him off into an almost exclusive trajectory of slickly packaged action films, many of which would come to star Denzel Washington in the last decade of his career. In retrospect, the original film is unabashedly cheesy, laser focused on a group of young handsome white men gridlocked in a pissing contest for naught, up until the last ten minutes of the film which showcases the necessity of rebels like Maverick.
The same triangulation of Maverick-Iceman-Goose is recycled here, as Val Kilmer's cameo underlines the passing of a gauntlet, where Cruise becomes the experienced bridge between the rivalry of Rooster and Hangman (Glen Powell), etc. Compared to the original, this is a much more layered attempt at narrative, with Maverick's guilt over Goose's death now omnipresent in the ornery semblance of Rooster, and, well, an actual imperative mission with real-life consequences for the 'best of the best' graduates of Top Gun to sink their teeth into. And the rest of the formula clicks right into place, albeit with some transportive panache and well-executed action sequences. Kosinski collaborates once again with his Oblivion DP Claudio Miranda (who lensed The Curious Case of Benjamin Button and Life of Pi), and is perhaps the director's first film successfully melding a semblance of human experience with the marvel of spectacle.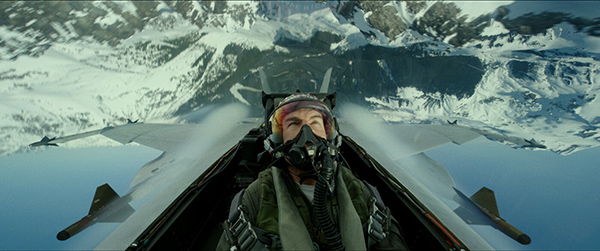 However, the insistence of Maverick also exploring romantic inclinations, once again, feels extraneous. It's more than mere lack of chemistry with his co-star, the first time around with flight instructor Charlie, played by Kelly McGillis, unceremoniously replaced by Jennifer's Connelly's Penny Benjamin (who could have all kinds of fun nicknames, like Pen Ben, or Penny Benny). In both films, the immediate fervor of the women isn't given a proper ignition or landing to make sense. Unlike the lady swapping of James Bond or Indiana Jones between installments, this switch hitting of female leads/characters seems tacked on mostly because they aren't even a cohesive part of the plot. Penny Benjamin is then merely the conduit for a woozy Lady Gaga ballad to play over the end credits (which has nothing on the sleek, mysterious vibe of Berlin's track "Take My Breath Away" in the original).
Other improvements feel more beneficial, and they don't include Ed Harris and Jon Hamm as Admirals who throw bitchy jibes as Maverick but secretly seem to be crushing on him. Miles Teller, who actually looks like he could be the progeny of Anthony Edwards and Meg Ryan, imbues the jilted Rooster with more sophistication than the story perhaps deserves, and there are fleeting moments of interest in the background players comprised of Jay Ellis, Monica Barbaro, Danny Ramirez and Lewis Pullman. Glen Powell dons the same All-American persona which netted him the John Glenn role in Hidden Figures (2016), but the script requires little of him other than to fulfill a predetermined purpose.
While the film is, at times, desperate to wring meaning where it surely isn't, such as the loving exchange shared by Kilmer and Cruise, it does yield one bit of wisdom, from one man to another: "It's time to let go." While Top Gun: Maverick is an enjoyable flight of fancy, especially considering its predecessor plays like the crust of a story whose center somehow vanished, this is among the classier examples of nostalgia porn we've yet to see. Alas, it is a depiction of people and programs whose missions and responsibilities have become obsolete in the digital age.
Reviewed on May 19th at the 2022 Cannes Film Festival – Out of Competition. 131 Mins.
★★★/☆☆☆☆☆