Mary Queen of Scots | Review
Two Queens Stand Before Me: Rourke's Reticent Recapitulation of a Doomed Queen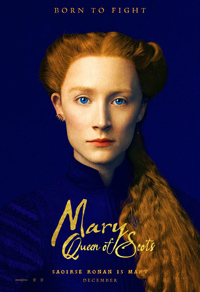 Not since Charles Jarrott's 1971 mounting of the infamous demise of Mary Stuart, which pitted Vanessa Redgrave against Glenda Jackson's Queen Elizabeth, has such a handsome portrait of the two fated royal leaders been so lavishly constructed as Josie Rourke's progressive minded debut, Mary Queen of Scots.
A quietly formidable Saoirse Ronan is endlessly watchable as the doomed Scottish queen, locking horns with her more powerful cousin, this time played quite mournfully by a beaked, pock-scarred Margot Robbie. Beau Willimon (who is adept at relaying the fascinatingly ominous escapades natural to the realm of political intrigue as evidenced by his "House of Cards" contributions) adapts from John Guy's Queen of Scots: The True Life of Mary Stuart with a cast populated by a dizzying number of notables. While liberties can't help but arguably be taken, this is a wholly satisfying reconsideration of the tragic historical figure, whose machinations may have been misunderstood or misconstrued (and whose trajectory is often a footnote in the celebrated divinations of Elizabeth). Whatever the case, Rourke concocts a handsome costume drama oscillating neatly between two powerful women whose ambitions and accomplishments have echoed endlessly through centuries.
Two decades before her decapitation following accusations of conspiring to kill her cousin, Queen Elizabeth I of England (Robbie), Mary Stuart (Ronan) returns to Scotland from France after she's widowed. Although not quite capably controlling her own court thanks to dissension among the ranks (particularly from a vitriolic David Tennant as John Knox, a misogynist soapbox extolling the will of the Church of Scotland), Mary's continual struggle for acknowledgement of equality from Elizabeth causes irreparable tension. The unmarried Elizabeth has no plans to wed or bestow an heir upon the throne, giving the younger Mary the potential upper hand to inherit control of England, especially if she were to marry an English noble and give birth to a son (which she does). More than their various schemes for control, both women must navigate the significant discord in their own courts, as the men who advise them seem more keen on keeping the women apart and at odds.
Perhaps not since Bette Davis' turn in Henry Koster's 1955 drama The Virgin Queen has the great Elizabeth been allowed to look so unromantically weathered. In more recent climes played by the likes of Cate Blanchett and Helen Mirren, the Protestant queen's beauty and inexorable regality are never tempered to such extremes, her self-doubt and esteem rarely as inextricably and exactingly measured against the presumed jealousy she bore for her younger cousin as they are here.
Historians will likely be non-plussed by these femme-centric characterizations, which, by matters of parameters, condenses the final years Mary Stuart's isolation and supposed plot to assassinate Elizabeth into a mere subtitle. Instead, Rourke harbors on more topical parallels, namely the patriarchal fury seething beneath the surface of both women's reigns, and the political maneuverings which allowed Mary to be deposed, sabotaged by her half-brother, the Earl of Moray (James McArdle).
Rourke only hints at the extreme dysfunction of their familial history. The specter of Henry VIII, for instance, is given short shrift, a name venomously tossed aside in a line uttered by Ronan. Henry's lineage started a cataclysm of brutal religious and political unrest, which transpired after the death of his third child and only son Edward VI. His eldest daughter, the Catholic Mary (better known as Bloody Mary, daughter of Catherine of Aragon) engaged in a deadly Protestant scourge, and Elizabeth's ascension (the subject of Shekhar Kapur's 1998 film) resulted in a struggle to overthrow her sister's formidable reversal of Protestantism. It's not so much a slight of Rourke's film, but the rich, rippling history which informed Mary Stuart and Elizabeth's relationship is important in understanding why these two women were cursed to be at odds.
Battle sequences and carnage are secondary to characterization, and Ronan's portrayal of Mary Stuart is a fascinating exercise in whittling the monarch's narrative into what could easily be dismissed as a revisionist interpretation. Whatever the case, Rourke and Ronan, more importantly, bring us to the brink of desiring she succeed despite knowing the unavoidable truth. Historically, period dramas entirely negate the presence of queer people or demean them into peripheral subservience (Mel Gibson's Braveheart, 1995), whereas Rourke manages a compelling exhumation. While the Mary-Elizabeth continuum may very well be the crux of Mary Queen of Scots, it's Ronan's affectionate relationship with Ismael Cruz Cordova's minstrel, who becomes part of her gaggle of handmaidens (including Romanian actress Maria Dragus), which succeeds with the film's more poignant, emotional depths (for comparison's sake within the film, it is a relationship which transcends the clichéd sacrificial dimensions shared between Robbie and Joe Alwyn's Robert Dudley).
Cinematographer John Mathieson (Gladiator, 2000) captures lovely Scottish vistas, and Alexandra Byrne's costume design work towards making this a lavish costume drama. But it's Max Richter's (Shutter Island, 2010) lush, swoon-worthy score which dramatically underlines this melancholy, bittersweet and endlessly intriguing historical chapter which finally receives the feminist portraiture its origins have demanded.
Rourke, who hails from the theater and has staged productions of Dangerous Liaisons and Much Ado About Nothing, arrives with an incredibly emotive debut using material many already feel all too familiar with, granting these annals of history a glorious immediacy which few have ever been able to conjure.
★★★½/☆☆☆☆☆