A Star is Worn: Corbet Confirms his Talent with Daring Sophomore Effort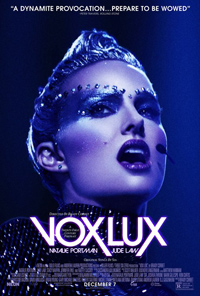 2015's The Childhood of a Leader (review) was a surprising debut in many ways, not only for director Brady Corbet's ambitious assuredness, but for the introduction of his 'foretold fictional history' mode of storytelling, which contrasted the detailed upbringing of a seemingly normal child with the nebulous, ominous promise of what he would become in the future. Vox Lux largely follows the same structure, though it intriguingly swaps the past for the contemporary by chronicling the origin story of a future pop star from the turn of the millennium until now. In doing so, it loses the almost unbearable sense of 20th-century dread that gave The Childhood of a Leader its more distinctive texture, but it gains a more humorous taste for the trashy mundanity that fuels the world of pop stardom and celebrity culture.
The thing about Corbet's cinema is that it's nothing if not programmatic. Full credits always at the beginning; ineluctable character trajectories; a clearly stated set of thematic goals to hit. Beneath the bombastic scores by Scott Walker (whose music from three years ago is still ringing in my ears, and who returns here in partnership/contrast with the effective work by Sia on the original songs), the affected formalism of his style, and some go-for-broke performances, you could almost call it straightforward.
This time, the myth of a global mega-star forged out of the tragedy of gun violence is first among those goals, and achieved in the same sensorial, visceral way that we have come to know in Corbet's debut. Celeste is only 13 when her school becomes the theater of a Columbine-like shooting: we have just been introduced to the character when we see her mowed down point-blank along with her teacher and classmates. She survives, gets back on her feet through physical therapy (continuing to wear a collar throughout the years, a harrowing reminder of her trauma which progressively morphs into just one more piece of the shiny, glittery armour she wears to perform on stage in the finale) and writes a song about the experience that quickly becomes a national anthem, propelling her music career towards unforeseen heights.
For a film that is so concerned with history, Vox Lux is surprisingly grounded in the moment; the chapters it selects from Celeste's life are few and far between, mostly leaving it to Willem Dafoe's affected and omniscient voice over to cover the remaining years. The one section focusing on her as an adult, which is when Natalie Portman comes in, is so immersed in a specific temporality that it could pass for a stand-alone, real-time chamber piece taking place before a concert.
Barely holding it together, the Celeste of 2017 has to contend with a terrorist attack that bears a disturbing link to her image, a daughter and a sister that she doesn't quite know how to talk to anymore, and most importantly the devastating feeling that her line of communication with her audience is no longer clear. In Vox Lux's twisted tunnel-vision, pop music is created as a cure for the broken soul of the country, by someone who just wanted "to make them feel good."
Shot by returning DP Lol Crawley in living-and-breathing 35mm, the film has a Nocturama-like ability to drive the audience's gaze towards surfaces and effigies that are as appealing as they are repulsive. The cathartic, 20-minute final performance is at once a reclaiming and a denouement, a confrontation and a silent acknowledgment. Portman sells it completely, at the tail end of a performance that, albeit brief, is beyond anything she's done in the past. Raffey Cassidy, who plays Celeste as a teenager and then again her daughter later on, is there to remind us of the Portman we know with some impressive vocal mimicry – but when the 31-yr-old version shows up, it's with a different accent and a whole new attitude, which the Vox Lux star has to pile on top of the visible cracks underneath.
Reviewed on September 3rd at the 2018 Venice Film Festival – In Competition. 110 Mins.
★★★★/☆☆☆☆☆