Reviews
Journey to the West: Conquering Demons | Review
A Demon in My View: Chow Returns with Rousing, Comedic Action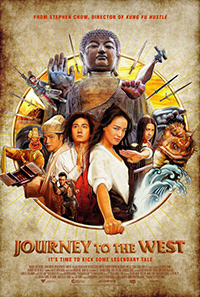 Director Stephen Chow returns with Journey to the West: Conquering Demons, his first film since the effervescent CJ7 (2008), this time granting co-director credit to Derek Kwok. Adapted from a famous 16th century novel (which in English, is known as Monkey), it's considered one of the four great classics of Chinese literature, though those familiar with Chow's frenetic mix of slapstick humor and striking visuals should rightly assume that considerable liberties have been taken in adapting the source material. Chow certainly stands as one of the very few directors who can smartly mix sappy with sweet, silly with exhilarating, and box it all in a mainstream composite of galvanizing aesthetic. While his latest starts to feel a bit batshit crazy by the time we get to the final lap, it's easy to forgive the sometimes rampantly unfocused broad strokes.
When a vicious water demon attacks the populous of a tiny village in the form of a large, ravenous fish, Xuan Zang (Zhang Wen), a self-professed demon hunter, intervenes, using the non-violent methods his master (Sihan Cheng) has taught him, which means singing a nursery rhyme to the demon (of which he 300 to choose from), which will coax the demon out instead of killing it. This method proves futile, and luckily another demon hunter, Miss Duan (Qi Shu) is nearby who beats the creature down and encases it in a tiny bag which turns into a cloth toy. After surviving a band of marauders hell-bent on assassinating demon hunters, the two reunite forces to take down a vicious pig demon. Suddenly, Miss Duan finds herself falling in love with Xuan Zang, who has no intention of returning her feelings because he is more interested in the pursuit of a 'greater' love in his pursuit of enlightenment rather than the 'lesser' love between humans. But when Xuan Zang is tasked with pursuing the most powerful demon of all, the Monkey King Sun Wukong (Bo Huong), he discovers that sometimes more aggressive tactics may be in order, though his master's teaching may provide him with the added dexterity, making him the Monkey King's greatest challenge.
Opening with a doozy of an action sequence, which plays like an homage to Jaws, Chow runs us through a veritable gamut of emotions as we're introduced to a small girl that first jokes around with her father before getting scared by his prank, making up with him, then watching him get viciously murdered right before her eyes. Chow, who often elicits convincingly endearing child performances, hooks us in minutes with material that mutates from touching, to funny, to downright violent in mere seconds.
As this first spectacular sequence unfolds, it's a tad disappointing that the daffy Xuan Zang and lovely Miss Den don't quite get to match that intense energy until a grand finale where they battle the Monkey King, who gets to spruce up as King Kong battling Buddha's 'talk-to-the-hand' tactics. In fact, Zhang Wen seems to get a little lost in the mix as a screen presence, though Qi Shu (who many should recognize from her work in Hou Hsiao Hsien's Three Times or Millennium Mambo) gets to seem a bit more charming as the lone female demon hunter, pummeling demons into squeaky toy pulp.
In a cinematic age where spectacular special effects are the empty hearted centerpieces of mainstream cinema, Chow knows how to use technology and harness its magic for excitement and effect. Sure, there's his customary zany slapstick (replete with a fat lady saving the day as she launches herself onto a cumbersome see-saw apparatus to fling the gargantuan fish demon onto land) present in nearly every sequence, but stitched together with aplomb, he always manages to surprise and entice with his colorful, exuberant cinema.
★★★  / ☆☆☆☆☆