Witches Get Stitches: Simien Retrofits Folklore with Contemporary Subtexts in Horror Satire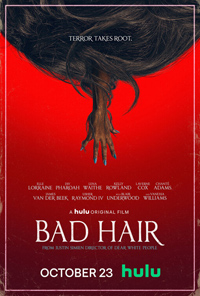 Justin Simien recuperates a particular time and place with a jaunty but ultimately subversive portrait of the insidious of repression in sophomore feature Bad Hair. Set in 1989 Los Angeles, it hearkens back to the rumbling ascension of a cultural shift which would find New Jack Swing transporting marginalized Black culture into the forefront in both cinema, television, and music. With Janet Jackson and Spike Lee about to become icons which would seed the trails for a whole host of Black artists, Simien examines how the problem of representation as it concerns the success of Black women remains hobbled by the continual imprint of white beauty standards in ways which evoke a host of 1980s genre masters with this tale of possessed hair.
Anna Bludso (Elle Lorraine) works at the music television station Culture, who happens to have created their most popular channel. But she wants to star in her own show. While she sleeps with her colleague (Jay Pharoah), a VJ who has received more opportunities at the network despite her longevity and contributions, her parents (Blair Underwood, Michelle Hurd) believe she's wasting her time, instead celebrating her sister's (Chante Adams) accomplishments as a teacher. When white executive Grant Madison (James Van Der Beek) arrives to announce Culture will now be run by ex-supermodel Zora (Vanessa L. Williams), replacing Anna's previous boss Edna (Judith Scott), the station will be revamped as Cult to appeal to a wider/whiter audience. And any of the employees retained are expected to adopt Zora's preferred aesthetics. Making it clear she likes Anna, Zora refers her to prized stylist Virgie (Laverne Cox) to have a weave installed, bluntly confirming what's holding Anna back is her insistence on keeping her natural hair. But Virgie's clients all suffer from something sinister in their weaves, which are made from the hair of ancient witches. Once installed, they feed on blood to gain strength and eventually take over their host.

While Bad Hair doesn't get into full-blown body horror, the idea of what Black women go through to emulate European aesthetics is certainly rife with Cronenbergian horror possibility. The envelope isn't so much pushed in this direction as it is a cross between the antics of a John Carpenter and a Larry Cohen, body take overs resulting from a consensual desire to consume products which ultimately destroy them.
A dance worthy of They Live vs. The Stuff, it's clear Simien is having a lot of fun with a game cast which includes a slew of extensive cameos, from the ghoulish Laverne Cox as stylist Virgie, Kelly Rowland as a Janet Jackson inspired pop star (paired with Usher as her clueless collaborator), and even Jay Pharoah as a stud VJ used by two women who will eventually duel to the death. Lena Waithe and Yaani King Mondschein are the two cohorts who reflect Anna's sentiments in ways which are both fun and ultimately meaningful stances on how Black women are browbeaten into an adopting an aesthetic designed to Anglicize them. The real discovery is Elle Lorraine as the empathetic Anna Bludso (a surname which is perhaps a phonetic homage to "The Cosby Show" alum Tempest Bledsoe), a strikingly beautiful screen presence who manages to anchor the film with the seriousness it needs. As her counter is the vampy Vanessa L. Williams, who Simien gives most of the best lines (a throwaway bit of bitchiness about "endless blocks of Anita Baker" in her reorganization of Cult is one of many howlers).
Despite its inventive production design, Bad Hair arguably suffers from budgetary constraints as regards the grand finale, but it's a delightful sister film to Sion Sono's earlier Exte: Hair Extensions (2007), albeit a culturally different but equally tongue-in-cheek use of this idea.
The underlying subtext, delivered in exposition provided by Anna's father, a professor played by Blair Underwood, drives home some cohesive themes, namely how white culture uses insidious measures to control the success of Black people, and their cultural reflections. The third act settles into predictable cliches, which somewhat relegates the significance of the subtext into something which feels more akin to the B-mechanics of a Tales from the Hood chapter, which isn't a slight considering how those films use genre to explore subversion. Rather, it just makes one wish Bad Hair had managed to surprise rather than show down, and rest uncomfortably as it does in those final moments where it sinks in on Anna's escape but heralds the beauty aesthetic onslaught which will continue to be transposed upon her sisters.
A diabolical take on issues rarely bluntly discussed in mainstream media (see Chris Rock's 2009 documentary Good Hair as a more serious treatment), Bad Hair is a fun homage to a time and place which still manages to say something pertinent about the Culture as it stands today while celebrating its resilience and integrity.
★★★½/☆☆☆☆☆