Why Don't You Just Die! | Review
The Kalashnikov Sonata: Sokolov Serves Pulp in Enjoyably Nasty Debut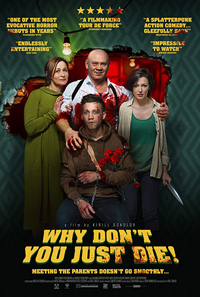 Hell hath no fury like a struggling actress, at least as it's played in the vibrant and violent directorial debut of Russia's Kirill Sokolov with his enigmatically titled Why Don't You Just Die! It's also a genre hybrid which channels the usual tropes of how money is the root of all evil and how blood is not really thicker than water in its send-up of 90s American stalwarts such as Quentin Tarantino (whose Kill Bill gets a direct reference) and Roger Avary. An action-packed, gory chamber piece interspersed with several flashbacks for necessary exposition, Sokolov makes an immediate name for himself with a revenge comedy as memorable as it is familiar.

Olya (Evgeniya Kregzhde) is an aspiring actress working as a waitress. She convinces her new boyfriend Matvei (Aleksandr Kuznetsov) to kill her father Andrey (Vitaliy Khaev), a corrupt police detective she asserts sexually molested her when she was a child. Matvei shows up at Andrey's residence with a hammer, but is unexpectedly deterred momentarily when he discovers Olya's mother Tasha (Elena Shevchenko) is also at home. Andrey's immediate suspicions forces a major scuffle between father and boyfriend, with Matvei handcuffed inside the bathroom. Andrey's partner arrives (Mikhail Gorevoy) concerning a recent scam they pulled and, finally, Olya arrives to add more insult to injury when she claims to have no idea who Matvei is. Someone, eventually, will have to pay the consequences for their bad choices…
Besides Tarantino, Sokolov's energy recalls early Bekmambetov and poppy music videos enthralled with their own stylizations (think DJ Snake and Lil Jon's "Turn Down for What" music video directed by Daniel Kwan and Daniel Scheinert), and one can add his name to a growing list of notable new directors traveling the festival circuit from Russia.
Sokolov borrows two players from Kirill Serebrennikov's stock, including character actor Vitaliy Khaev (of 2004's Ragin and 2006's Playing the Victim) and rising star Aleksandr Kuznetsov (who was in Serebrennikov's Leto, Pavel Lungin's Leaving Afghanistan, headlined Aleksandr Gorchilin's Acid, and will soon be seen amongst Rachel Lang's international cast in Mon Legionnaire). However, both actors are caught up in the slick, slippery fabric of the narrative, and each player fulfills their small corner of the ensemble requirements, including Elena Shevchenko's daffy mother, Evgeniya Kregzhde's Pamela Smart-inspired girlfriend and the painstaking police partner played by Mikhail Gorevoy (who has been a bit player in several US productions, including Spielberg's Bridge of Spies, 2015).
Lensed by Dmitriy Ulyukaev (Vasily Sigarev's Land of Oz, 2015), Sokolov rides a fine balance between something like Hardcore Henry (2015) and Polanski's Death and the Maiden (1994) – only the moment of truth is as nihilistic rather than cathartic.
★★★/☆☆☆☆☆