Reviews
Kiss of the Damned | Review
Nothing Human Loves Forever: Cassavetes' Feature Debut Gloriously Vintage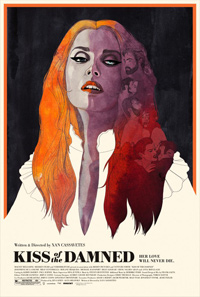 Xan Cassavetes joins the family directorial legacy with her feature debut, Kiss of the Damned, a deliciously vintage throwback to the erotic horror output of the Hammer studio heyday. Previously, this Cassavetes was responsible for a 2004 documentary Z Channel: A Magnificent Obsession, and her fiction debut seems considerably removed both from her own work and that of the familial output. A visual feast with a killer sound design, she manages to invoke Stephanie Rothman and Jean Rollin, where naughty immortal creatures from the dark side explore a bloodlust as inextinguishable as their sexual desires.
Djuna (Josephine de La Baume), a beautiful, lovelorn vampire residing in a remote mansion in the Connecticut countryside spends her nights hunting animals in the surrounding woods and watching vintage cinema. The residence belongs to Xenia (Anna Mougalalis), an actress and older, wiser vampire, but the estate is run by Irene (Ching Valdes-Aran), who suffers from the same rare blood disease as her ancestors, and thus makes her immune prey to her employers. One night, Djuna returns some video rentals and runs into Paolo (Milo Ventimiglia), a screenwriter, with whom she immediately shares an intense and animalistic attraction. As they embark on an intense, immortal passion, their lovemaking is interrupted by Djuna's troublemaking sister, Mimi (Roxane Mesquida), one of those rebellious vampires that still insist on eating human flesh and exposing the human world to their evil ways. Mimi's presence suddenly positions Djuna and Paolo in possible danger, even as their mentor Xenia attempts to build a secret safe house/retreat for the troubled Mimi in Phoenix. But the safe house may not be ready in time before Mimi's bloodlust raises everyone else's blood pressure.
From the opening title sequence, it's clear that nearly every moment of Xan Cassavetes' Kiss of the Damned is homage, right down to the scant narrative and championing of style over substance. But it's a hardly a film that can be written off as cheap thrills or tired reference. It's clear that Cassavetes and cinematographer Tobias Datum have carefully designed their frames, further enhanced by a spectacular sound design and expert editing from Taylor Gianotas and John F. Lyons. The final product is beautiful to behold and a wondrous throwback to a forgotten era of cinema that's too often dismissed as low brow or cheesy.
So it's too bad then that our two main vampires are so boring, their lovesick infatuation, unfortunately, as lifeless as their characters. In particular, Milo Ventimiglia feels incredibly flat once his character is expected to be more than a brooding sexual magnet for the flame haired Djuna. Josephine de La Baume fares somewhat better than he does, but her thunder is stolen by two very colorful and arresting supporting characters. The dragon voiced Anna Mougalalis, introduced first as a harsh presence over the phone, makes a delicious appearance as the ravishing and worldly Xenia. Mougalalis, whose intriguing work with the likes of Claude Chabrol, Chantal Akerman, and Philippe Grandrieux, is perhaps still best known to Western eyes as Coco Chanel in Jan Kounen's beautifully designed 2009 film Coco Chanel & Igor Stravinsky. As happens in all of her vehicles, you'll yearn to see more of her face and her voice. But perhaps best of all is Cassavetes' use of Roxana Mesquida, an actress often cast by Catherine Breillat and Quentin Dupieux. While she's been compared to the likes of Romy Schneider, here she's all Barbara Steele with an Udo Kier affect. The film's most enjoyable scene is shared with Mesquida, Mougalalis, and Riley Keough as the very virginal teenage fan of stage actress Xenia.
The implied immortality of cinema and vampires is a dual theme certainly not lost on Cassavetes (her own relationship to cinema is only one more delicious detail you could add to the reception theory at work) judging from the plentitude of references. A whole host of other notables pop up throughout, including Michael Rapaport as Paolo's coke monkey of an agent, and Tarnation director Jonathan Caouette as a fellow vamp. And even despite it's less interesting lead couple (perhaps to express that in an immortal realm the idea of eternal love is even more tedious) this is definitely a kiss worth experiencing more than once.