Reviews
Love is All You Need | Review
Before the Wedding: Bier's Latest a Vibrant Vehicle for Dyrholm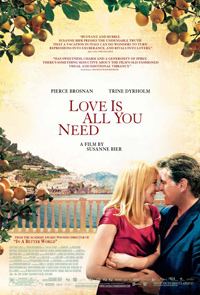 Susanne Bier returns with an uncharacteristically light film, Love Is All You Need, after her 2011 Best Foreign Language Film win for In a Better World. The result is, without a doubt, a mainstream effort that has all the predictable benchmarks of the well worn romantic comedy. But Bier, along with her regular screenwriting collaborator Anders Thomas Jensen, proves the possibility of just how enjoyable and genuine the genre can be, generously giving us a host of well written, likeable characters, that are (for the most part) realistically rendered. Perhaps Nancy Meyers can take note.
Ida (Trine Dyrholm) has only recently completed her successful chemotherapy treatment of her breast cancer. Her immediate plans are to start having fun with her husband of twenty three years, Leif (Kim Bodnia), starting with traveling to Italy to attend daughter Astrid's (Molly Blixt Egelind) wedding to fiancé Patrick (Sebastian Jessen). Ida is uninterested in the reconstruction of her breast, citing that she's luckily married to a man that see's beauty on the inside. And, as if on cue, she walks in on Leif schtupping Thilde (Christiane Schaumburg-Muller) for a funch on the living room couch. Upset, but not unwound, she loses her composure in the airport parking lot when she mistakenly slams into Philip (Pierce Brosnan), who happens to be the father of Patrick.
We've been introduced to Philip, who runs a successful company that imports produce, a lonely widower who keeps the world at bay with his loathsome bitchiness. Needless to say, he isn't the most comforting fellow to the distraught Ida, though the two are at least able to share a flight and a car ride to Philip's manor in Italy, where the wedding will take place. It becomes immediately obvious to us that Patrick's hiding a secret that will predictably ruin the wedding, hard as Bier and Jensen try to distract us with the supporting character shenanigans, such as Leif and his dippy idea to bring along Thilde, (who introduces herself as the fiancée), or, even better, a raptorial Paprika Steen as Benedikte, Philip's sister-in-law who has desperately been trying to woo the dapper man since her sister died years ago. Of course, all their machinations only cause the mutual attraction between Philip and Ida to blossom, as, conversely, the young lovers on the verge of marriage are forced to reexamine their motivations.
Bier also brings along her regular cinematographer Morten Soberg, and they make the most of their fabulous setting on the Amalfi coast. But their interiors match the vibrancy of the outside, further enhanced by the engulfing colors of the significant array of wardrobes on display, matched by Steen's flame colored hair and those deep blue eyes of Dynholm's, posed at odds with the tarty blue eye shadow smeared on the squinty Schaumburg-Muller. Brosnan, for his part, seems incredibly at home with this character, for once, and he manages to develop a fine chemistry with his leading lady.
Certainly, Love Is All You Need isn't without its stock caricatures, mainly the usually dependable Kim Bodnia, here a slovenly fool that seems hardly believable as the long time partner of a woman like Dynholm. And then "That's Amore" trickles into the soundtrack like some hyped specter wishing to keep reminding us that this is all about love, which aligns the film with its subpar American formulaic counterparts. Certainly this lacks the bite and potency of Bier's more viscerally dramatic titles, like After the Wedding (2006) or Brothers (2004), to be sure. But one should not discount the wonderfully warm performance from Trine Dynholm that centers this film. In the its most obvious metaphor, a lemon grove in which Philip first made his successful start, it's obvious that Ida knows what to do with what she cites as her favorite fruit. Don't go into Love Is All You Need expecting to be surprised or provoked. Go into it to experience the gifts of its lovely leading lady. Ida is Ida is Ida.