Strangers With Cabins : Partridge's Uncomfortable Sophomore Film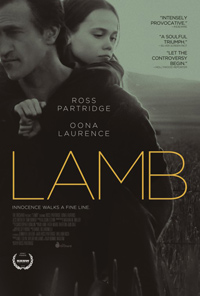 Returning behind the camera for the first time since his 2000 debut indie film Interstate 84, actor Ross Partridge reaches uncomfortable and unpredictable heights with Lamb, an adaptation of a novel by Bonnie Nadzam. Exploring a socially inappropriate relationship between a middle aged man and a pre-teen female barely on the horizon of adolescence, Ross reaches a perfect emotional pitch in-between punctuations of queasy discomfort. With impressive finesse, Partridge, who adapted the screenplay, maintains the sense of dense characterization sometimes lost in cinematic translations dealing with material as fragile as this.
Having just buried his father and in the midst of a divorce, Chicago businessman David Lamb (Partridge) finds himself adrift in an increasing tangle of little white lies and untruths that have forced him into a stagnant personal ennui. He's having a tepid affair with co-worker, Linny (Jess Weixler), though she's really not even aware of what's going on in his personal life. One day while having a cigarette, Lamb is approached by a scantily clad 11 year old schoolgirl, Tommie (Oona Laurence) dared to ask him for a smoke at the behest of her friends. They spark up a quick rapport that reveals quite a lot about the young girl, who is seeking the approval of the cool clique that sent her over. As an experiment and to teach her friends a lesson, he gets Tommie to go along with his idea to pretend to kidnap her and see how her friends will react. It turns out, they don't do much, and Lamb gives Tommie a fatherly lecture before dropping her off near home. But then, Tommie seeks out Lamb's company again. And before you know it, they're hanging out all the time. And then Lamb asks Tommie to go on a camping trick to the Rocky Mountains with him. Alone. She gladly accepts the invitation.
The threat of pedophilia is as unsettling as any actual act, and so the socially inappropriateness of the relationship developing between Tommie and Lamb is enough to keep us on edge since the very first sequence shared by the two leads, which only deepens by increasingly distressing degrees. Modern comparisons should put one in mind of either Hard Candy (2005) or Four (2012), wherein predatory adults cross significant lines with their adolescent victims.
Of course, the title, which is literally David's last name, refers metaphorically to the vulnerable Tommie. David is the wolf dressed up in euphemism here, and to throw in another adage, he's a personification of those damned pathways created from good intentions. Superficially, Lamb seems a well-meaning sort, but he's barely able to override temptation it seems, as evidenced during a bizarre night time bath sequence. Things get real weird when Linny, the always enjoyable Jess Weixler, makes a surprise appearance at the cabin and Tommie gets dispatched to a closet. Partridge assembles notables even in the film's smaller roles, with Scoot McNairy and Lindsay Pulsipher granted one sequence of nonchalant parenting, while the always unnerving Tom Bower gets a chance to play an actual welcome menace as a gruff groundskeeper.
You may have seen Partridge in a variety of American indie films, with notable roles in the Duplass Bros' 2008 film Baghead and last year's The Midnight Swim from Sarah Adina Smith. He's given himself his most satisfying onscreen presence yet as David Lamb with a performance you're apt to remember. As his counterpart, newcomer Oona Laurence (recently in another heavy indie, I Smile Back) has all the precocious waifishness of a Tatum O'Neal, and her vehement yet dysfunctional attachment to Lamb is exactly the emotional depth that makes its final frames as believable as they are aggravating.
Reviewed on March 14 at the 2015 SXSW Film Festival – Narrative Spotlight. 93 Mins.
★★★½/☆☆☆☆☆