Le Fidèle (Racer and the Jailbird) | Venice Film Festival Review
A Child's Heart: Roskam Keeps Digging to Find What Lies Beneath Fast Cars & Bank Heists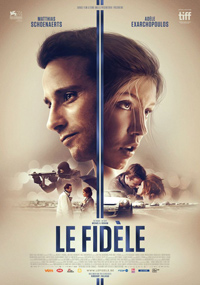 From native Belgium to the States and back, Michaël R. Roskam has established his own brand of crime dramas along the way. Dwelling in the periphery of the gangster world, he has shown – with Bullhead and The Drop – a knack for bringing to the surface the awkwardness and broken spirit of otherwise stereotypically strong characters. This is cinema marked by reticence and doomed choices, with characters often at war with their own narrative, which means his films so far have been profoundly intriguing and atmospheric but at the same time not especially suited to the spotlight. Le Fidèle aims to change things by pairing two glamorous stars (Matthias Schoenaerts and Adèle Exarchopoulos) against a more conventionally flashy backdrop (she's a car racer and he leads a high-profile gang of robbers). And yet there's a certain sense of fulfillment in realizing that Roskam is not the guy who can embrace that premise – he can only chip away at it.
When Gigi meets Bibi at a Bruxelles racetrack, he's luminous with a drink in his hand, a pink pullover on his shoulders, and those blue eyes glued to her pilot suit coming off. It's got the making of a great romance, even though he's clearly not the 'import-export' guy he says he is. Luckily, Exarchopoulos's Bibi is not your typical gangster wife either, possessing instead a steely resolve and an aggressively-tuned nose for bullshit. Both qualities make great use of the irreverent resilience that propelled Exarchopoulos to fame with Blue is the Warmest Color, though here they are interestingly spun in new, more mature directions.
The story then hits pretty much all the beats you expect it to, but there are a couple of things keeping Le Fidèle from ending up in the graveyard of movies that wanted to be Heat without having the necessary scope. First, Roskam is a solid director, not just when he has to stage an inventively planned (and impeccably executed) highway robbery in a now de rigueur long take, but more importantly in molding the architecture of Bruxelles into an evocative mix of classic old Europe and punchy hi-tech modernity (captured by Raf Keunen's sharp electronic score), all filtered through a rich amber palette linking the loneliness of different characters who are holed up in different apartments.
Secondly – like any savvy robber – he knows when it's time to drop everything and run, specifically from the trappings of genre. In its second half, Le Fidèle turns inwards by framing Gigi as a pre-rational, childlike entity on a journey to come out into the world. It's a long way from the superficial car-racing thriller this promised to be, and the film has a ton of weight to shift to get there, which is why the end result is underwhelming. Still, it's a fascinating trajectory that strengthens the bond with Roskam's previous work.
"A man shoulders the load, but he does not lie. Lying is for kids," says Bibi's endearingly perceptive father when Gigi announces he would like to marry her. Later she will be the one to echo those words, trapping this big, hulking body of a man into finally dealing with its fears and desires. In between, Schoenaerts' body (always a great symbol of tormented, uncomfortable manhood) gets shrunk and twisted in the passenger seat of a speeding car, petrified and fatefully assaulted by small dogs (another key theme for Roskam), and finally hidden away in a dark hole. Getting out will mean suffering a punishment and defying a sacred wish of love, but that's what it takes to be born.
Not everything is cohesively threaded in the fabric of the story, but it is all there, along with a careful touch of humanity in every character (even those who would be one-note villains elsewhere). You get the sense that Roskam is one great script away from making a real splash, and that it will be so easy to look back and see it all shape up in his previous movies when that happens. Of course, we'll say – that quiet, subversive note has always been there. Like Gigi, and like that final, faceless ride through the streets of Bruxelles, it'll get there sooner or later.
Reviewed on September 9th at the 2017 Venice Film Festival – Competition. 130 Mins.
★★★/☆☆☆☆☆