Time to Leave: Alain Resnais' Elegant Swan Song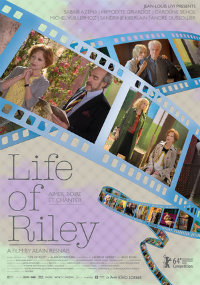 Alain Resnais, that reluctant member of the French New Wave, passed away in March of 2014, not quite two months after the premiere of his last film, Life of Riley, at the Berlin Film Festival. Reaching its theatrical release, the film marks a graceful cap to an extraordinary filmography from a director that specialized in fragmented narratives that play with memory, time, perception, and the complicated nature of human interactions. His final film, while certainly more linear than many of his most famous works, is no exception to his exploration of time and the limited amount of it. Returning with several of his favorite key players, it's the third Resnais adaptation of an Alan Ayckbourn play (originally titled Aimer, boire et chanter, which translates to Love, Drink and Sing), as charming as ever, presented with its stylized stage artifice.
Three couples are closely affected by the news that their friend, George Riley, has just received a diagnosis that he has six months left to live. His friend and physician Colin (Hippolyte Girardot) made the diagnosis, but it's Colin's wife Kathryn (Sabine Azema), who alerts everyone else, including George's best friend Jack (Michel Vuillermoz) and his wife Tamara (Caroline Sihol), and George's estranged wife Monica (Sandrine Kiberlain), who now resides in isolation on a farm with her new boyfriend, Simeon (Andre Dussollier). Because of this, George is offered a role in a play that Colin, Kathryn, Tamara and Jack are all performing in. But it seems George also wants to say private goodbyes to all the ladies in his close circle, which exacerbates the strain that all of them have been experiencing in their respective relationships.
For those that found Resnais' 2012 title You Ain't Seen Nothing Yet a bit too esoteric, (what with its meta exploration of a director's swan song as experienced by past cast members who relive their experiences of working with him, all actors playing versions of themselves), Life of Riley is a sweeter, simpler antidote. While that had initially been rumored to be his last film, Resnais managed to complete this last endeavor, its English language title sharing the name of the 1950s US William Bendix television series. Resnais' film is comprised of stylized outdoor sets, rarely dipping into any kind of interior, with several key characters, including the eponymous Riley, never making an appearance on screen.
It's unavoidable to draw comparisons between the plight of Riley's terminal illness and Resnais' own declining health, which may explain why Andre Dussollier, the star often considered Resnais' onscreen alter ego, gets a more inconsequential role here, one of three men whose wives are wooed away by their suave friend. Characters juxtaposed against a checkered background that looks courtesy a green screen also highlights the playful artifice, not unlike the snowflakes segues that marked Private Fears in Public Places (2006), here replaced by cartoon drawings of the building fronts and locales we cut to. The characters engage in stylized exchanges that often are mistaken for the actual play they're all rehearsing for, though we never get to see the end product or the actual rehearsals taking place. We're stuck watching them in a void that is the rehearsal for a rehearsal.
Time and its definitions are heavily referenced, with Hippolyte Girardot's doctor having multiple clocks that never tell the right time. In fact, he has to set aside a day off to correctly set them all. Likewise, the three couples affected by George's decline are all out of sync with one another, but through the interruption of George's flirtations, they all manage to find their way back to reuniting once more. Sandrine Kiberlain's remarks about the performances of the other women after the opening night of the play seems to be an in-joke, criticizing Azema's Kathryn as only having the ability to play herself while Sihol's Tamara overacts.
Sabine Azema, wife of Resnais and star of several of his films, has a distinct cloud of fuzzy red hair that follows her around, here less obtrusive than usual. Caroline Sihol (who appeared in Resnais' 1983 film Life is a Bed of Roses) is a bit more chameleonic, her attention starved Tamara a far cry from the socialite harpy she played in Chabrol's A Girl Cut In Two (2007). With a finale that suggests an 'all's well that ends well' ideal, Life of Riley is a highly styled exercise from a master filmmaker, a bittersweet addendum to an impressive body of work.
★★★★/☆☆☆☆☆