Reviews
Stonehearst Asylum | Review
Crazy in Love: Anderson's Gothic Sprinkled Romance Deserves to be Tarred and Feathered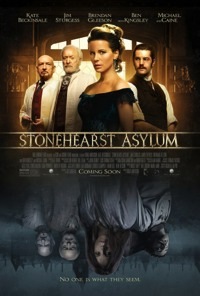 Fresh off the surprise box office success of 2013's Halle Berry headlined The Call, director Brad Anderson returns to the creepy confines of the mental ward with Stonehearst Asylum, reminiscent of his well received 2001 film, Session 9. Assembling another terrific cast for this period piece, those familiar with a fine tradition of Gothic cinema will immediately begin to pick up on the threads of Edgar Allan Poe that inspired the macabre switcheroo generating the dramatic conflict. But even before we get to that point, Anderson's latest arrives DOA, a cold, tepid turkey that isn't ever sure of the mood it wishes to generate. Scenes fluctuate rapidly, and we're left to decide whether this is supposed to be a prim and proper brooding romance of stiff corsets and constricted consecrations, a downright queasy examination of the thin line between what's considered sane and crazy, or a revenge comedy.
A young graduate of Harvard medical school in the year 1899, Dr. Newgate (Jim Sturgess) takes a position at an isolated mental asylum. There he meets offbeat Dr. Silas Lamb (Ben Kingsley), who proves to have an interesting approach to the wards of the asylum, focusing on making their stay pleasant instead of searching for cures that may harm them in the process. Dr. Newgate is immediately taken with a beautiful woman among the inhabitants, Eliza Graves (Kate Beckinsale), a sufferer of hysteria who recently poked her rich husband's eyeball out after gnawing on his ear when he tried to have his way with her. Other than that, she seems perfectly composed. But things don't seem quite right at Stonehearst. Dr. Lamb's right hand man, Mickey Finn (David Thewlis), is a leering henchman, while Millie (Sophie Kennedy Clark), the main nurse, exhibits characteristics of an infantilized nymphomaniac. But then Dr. Newgate discovers the horrible secret of Stonehearst, for locked in its very bowels are the starving doctors, nurses, and other staff members that should rightfully be running the asylum.
When Dr. Newgate finally discovers the terrible secret harbored by Dr. Lamb, we understand that this is meant to be an updated treatment of Poe's short story "The System of Doctor Tarr and Professor Fether," which has inspired several bastardized adaptations, more notably Juan Lopez Monctezuma's 1973 The Mansion of Madness (you might know him better as the director of Alucarda, 1977) and Jan Svankmajer's woefully underappreciated Lunacy (2005). Anderson, with screenwriter Joe Gangemi, seemed keen on remastering this concept from a different angle, initially enhancing the tale's female presence with original title Eliza Graves. But this proves to be Stonehearst's greatest folly, for its final act twists are what finally drive a stake of ridiculousness through its shopworn heart.
Beckinsale tends to stand out as the film's major weak point, partially because she looks wholly unrealistic, but also because this seems handled by a director who seems to have little knowledge of how mental illness works. Convenient cures or debilitating tics of nagging symptoms are doled out unabashedly and never mind how it demonstrates the effects of electroconvulsive therapy.
But worse than its glaring inconsistencies, Stonehearst Asylum never manages to be entertaining, an aspect that would have made its flaws a bit more easy to overlook. Actors like Michael Caine, Sinead Cusack, Brendan Gleeson, and David Thewlis are all rather underutilized considering their potential. As the lead protagonist, Sturgess manages to be serviceable and scores less unintentional laughs than Beckinsale, but just look at how's he drowned out by the magnetic Ben Kinglsey (who appeared in Anderson's 2008 film, Transsiberian), the only cast member to have any real effect. Kingsley generates several moments of grisly glee, such as forcing his protégé to administer shock treatment to a man they both know is perfectly healthy. While Stonehearst Asylum may not be Anderson's worst film (The Vanishing on 7th Street still holds that distinction), it proves to be an injustice to its vintage source material. Anderson can be a director of excitingly high concept, offbeat material, but Stonehearst is too glossy and too lugubrious to consider seriously.
★/☆☆☆☆☆