Sink or Swim: Garcia's Debut a Glossy Derivative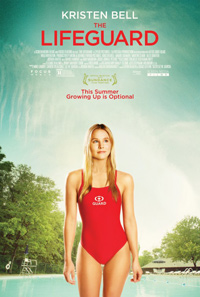 Though featuring a handful of winning performances from an extremely likeable cast, writer/director Liz W. Garcia's debut, The Lifeguard, is about as original and realistic as its metaphorical title is gauntly vague. Best known as a writer on that late 90s television series you may be familiar with, "Dawson's Creek," Garcia's feature plays like a logical extension of her teen characters from over a decade ago, examining familiar themes of nostalgia in overtly familiar ways. Innately, we all seem to know that one can't go home again, which doesn't stop humans from doggedly attempting to recreate the past or filmmakers from mining the scenario for dramatic possibilities.
About to turn 30 and disappointed with her life in New York City, Leigh (Kristen Bell), seems to have prematurely reached her mid-life crisis. Romantically entangled with her married boss, her professional life also seems to have reached a veritable standstill. Covering a news item about a dead baby tiger that had been shackled cruelly to a desk inside an apartment building, her employer's refusal to treat Leigh's article as an actual news story is the final straw in her emotional decline. She retreats to her parent's (Amy Madigan & Adam LeFevre) home in suburban Connecticut, where Dad welcomes his little girl with open arms while Mom seems a bit irritated at her daughter's unexplained need to return home and to working as a lifeguard at a local public pool, just as she had in high school. Meanwhile, her old besties, the still closeted Todd (Martin Starr) and principal Mel (Mamie Gummer) are each wrapped up in dramas of their own, but the reappearance of Leigh seems to cause them all to spiral into a pattern of nostalgic regression. While working at the pool, Leigh makes a connection with Little Jason (David Lambert), the pool owner's son who lives at the back of the pool house on his own. A senior in high school, Jason is at the very crossroads where Leigh seems to wish she was at, and she's soon engaged in an irresponsible and possibly dangerous relationship with Jason and his group of friends.
It's clear that the dead baby tiger is meant to represent a parallel to Leigh, or at least she chooses to interpret it as such; a wild, exotic creature robbed of its potential, and starving to death in a trap set by someone that has no other wish than to simply own the animal. And yes, clearly Leigh is the floundering character in need of a lifeguard herself, for her selfish return to the womb is a black hole that sucks everyone else into it.
Kristen Bell, stretching her wings in a potentially unflattering role, is too charming and effervescent to make the situational drama very effective. Her relationship with Little Jason is, according to the law, statutory rape, but somehow she manages to remain charming and untarnished, which isn't helped by Garcia's convenient happy end. There are arresting moments of interest sprinkled throughout the film, in particular two scenes in which Leigh asserts control where she is met with extremely hostile and aggressive retaliation from male characters. The results and reactions aren't quite examined in relation to her development, and one wishes these uncomfortable and conflicted moments had been explored further (a discomfort that the plethora of sex scenes just can't quite reach).
Another film that premiered alongside this title at Sundance 2013, A Teacher, is a much darker tale mining the same motif, and is perhaps more realistically rendered even though its narrative has significant problems of its own. Even a last minute tragedy doesn't quite elevate the intended dramatic impact of The Lifeguard, instead force-feeding us its feelings with a bath of indie rock tracks which intrude on the proceedings like a barrage of commercials.
While Bell inadvertently aligns the material with any number of glossy takes on the risqué subject matter, Mamie Gummer remains a surprisingly realistic supporting character, one whose own dilemma seems much more provocative than her co-star's. In the end, The Lifeguard plays like any number of similar films that seem to say going home again means you can go fuck a bunch of stuff up and learn hard life lessons while remaining relatively unscathed.