Passion Fruit: De Palma's Return to Genre a Flimsy Revamp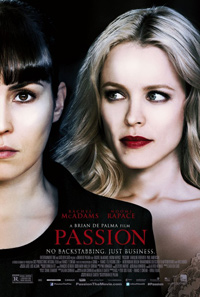 Arguably one of the greatest American directors from the mid 70s to late 80s, Brian De Palma returns with Passion, a remake of the late Alain Corneau's last film, Love Crime (2010), with the end result unfortunately feeling dead on arrival. Part of the problem might be comparisons to the already pulpy but superior Gallic original, but De Palma, never a stranger to retooling material he's attracted to (always criticized for borrowing heavily from Hitchcock and Eisenstein), here only manages to create a trashy, stale revamp that plays out nearly exactly the same way as the film it apes. Doubles have always been a favorite motif of his, and perhaps this is the unkempt sister image of Love Crime, escaping from behind the mirror.
Isabelle James (Noomi Rapace) works for a high powered advertising agency and has developed something of a strange relationship with her boss, Christine (Rachel McAdams), though perhaps sleeping with Christine's boyfriend (Paul Anderson) might have had something to do with that. Isabelle is something of a hot shot in her company and has just designed a provoking ad campaign for jeans, which Christine brazenly steals as her own idea in an effort to get transferred back to the company's New York branch. But Christine is very up front with her crookery, trying to convince Isabelle that her position authorizes her to utilize Isabelle's ideas to their full potential. At the same time, Christine has been maniacally ingratiating herself into Isabelle's life, first seducing her and then playing a strange series of mind games with her overly serious underling. After Christine embarrasses Isabelle at an office party, Isabelle decides to exact a fatal revenge on her conniving boss with the help of her own underling, the assistant Dani (Karoline Herfurth), thus setting off a labyrinthine revenge plot where absolutely nothing is what it seems.
Visually, Passion has distinct differences from Love Crime, but for most of its running time, borrows narrative exclusively, with noticeable flourishes De Palma uses to create a wholly original final sequence. Unfortunately, this leaves little surprise for those who enjoyed the first film. But beyond familiar remake squabbles, De Palma's version has bigger problems, first and foremost being the original score from Pino Donaggio (who last scored De Palma's Raising Cain, 1992, but also scored Carrie, 1976), which sounds like it belongs in a 90s erotic thriller that would have starred Rebecca De Mornay. And next, Rachel McAdams, though she does give an entertaining performance, is not entirely plausible in her role as a high powered executive in an elite ad firm. Fluctuating between intentional and unintentional camp, there never seems to be anything realistically at stake, the implausibility of it all distracting from its merit as a thriller. Not to mention that McAdams and Rapace are both very close in age, while in the original, there exists a large age gap between boss and underling, which created a believable conflict and tension that never rings quite true here.
Passion feels like a thriller remake of Working Girl, but with the Melanie Griffith character psychotically lodged into the supervisory role. De Palma, forever criticized for creating glossy trash, returns to his perverse realm here, but not in the same vein as his best works. The final minutes of the film somehow stand out as a delicious conclusion to a half baked tale, and we see a tiny glimmer of thriller that could have been. But Passion is just too silly to hold to any high esteem, even as high class camp.

Reviewed on September 11 at the 2012 Toronto International Film Festival – SPECIAL PRESENTATIONS Programme.
98 Min