Reviews
Love is in the Air | Review
Pressurized: Sagnier and Co. in a Charming Rom-Com Straitjacket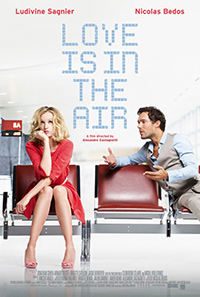 For his first solo film as director, Alexandre Castagnetti nabbed the talented Ludivine Sagnier to headline his romantic comedy, Love is in the Air (or Amour & Turbulences as it's known in its native tongue), and it's an entertaining enough showcase for the star who we've grown accustomed to seeing in darker roles where she's terrorized at the hands of Ozon, or singing poppy confections in Christophe Honore's films. Here she's the protagonist in what feels like a very Americanized, situation dictated farce about love, thankfully less strained than many Western counterparts (though the six credits in the screenplay seem unnecessary considering the little lolly this ends up being).
A moderately successful sculptor, Julie (Ludivine Sagnier) is about to leave New York and return to Paris after a demure exhibit. A stroke of good luck has her economy class ticket upgraded to first class at the last minute, and all seems hunky dory for the smiling blonde when she ends up seated next to hungover playboy Antoine (Nicolas Bedos). Lo and behold, these two dated several years ago and actually had a quiet a nasty break-up, which is related to us via flashback while a host of the other first class passengers, including a busybody flight attendant, are drawn into their very public rehash of problems past. But as the six hour flight comes to a close, Julie, who is about to be married to a very dull but very safe lawyer in four days, may have to reconsider her next moves. Should she give this cad a second chance after he's had the opportunity to explain some of his tomfoolery?
There's a certain amount of enjoyment to be had from the effervescent Sagnier, here a sometimes neurotic waif with questionable daddy issues that lead to bouts of jealous fueled ranting. Relative newcomer Bedos, whose certainly looks the part of a spoiled playboy, is less successful if only for that fact that his character's actions are written to be convenient with the plot rather than what some may call realism. We actually grow to despise him more as we get clued in on both versions of their flashbacks, so a 180 in the last ten minutes feels like a last blatant slap of rom-com movie magic at its standard best.
To think that the smart and ambitious young woman that Sagnier's character presents herself to be would have anything to do with a man like Antoine by the finale shrugs itself off into the 'true love is blind' principle. But here we enter territory where love has more of a lobotomizing effect.
A minor subplot involving Antoine's best friend Hugo (Jonathan Cohen) seems a bit vaguely construed to matter beyond a catalyzing moment, but Clementine Celarie is an engaging accent as Julie's party loving mum (yet Castagnetti wastes the talents of someone like Brigitte Catillon in an utterly humorless and wasted supporting bit). It's not so much that Love is in the Air is a terrible film, it's just terribly familiar and has the audacity to be every bit as predictable as you can surmise it will be from its opening frames.

★★/☆☆☆☆☆