Good Time Gal: Barthes' Sensible Remake of Flaubert's Classic Novel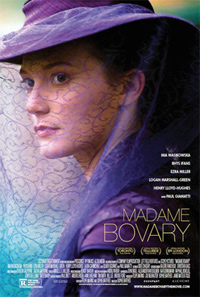 Few literary protagonists have reached the heights of notability as the infamous Madame Bovary, from the proto-feminist novel written by French author Gustave Flaubert in 1857. Examining the selfish and inevitably tragic actions of a discontented wife, the titular character is also rather hard to sympathize with considering a multitude of understandable yet frustrating actions. As many literary figures, she's been resurrected for the big and small screen on multiple occasions over the decades, generally to troubled critical reception. Though Claude Chabrol's 1991 adaptation is somewhat regarded as the definitive film version, this latest examination is the first to be directed by a woman, a detail being used as a selling point for tuning in. But even if you can ignore the fact that a notoriously bi-sexual French man originally penned the material inspiring this English language co-production, it's a not a distinction strong enough to make this handsome edition altogether relevant.
In an effort to escape her convent upbringing and rural existence, Emma (Mia Wasikowska) agrees to marry mild mannered Dr. Charles Bovary (Henry Lloyd-Hughes). Her father (Olivier Gourmet, the only French accent amongst the principles) is delighted at the union, but Emma soon realizes her mistake when Charles decides to settle in a country post in Yonville (a village as ironically drab as its fitting name suggests). Immediately, smarmy merchant Monsieur Lheureux (Rhys Ifans) preys on her need for excitement, and he soon has her running up large sums of credit for fancy items. A young law student, Leon (Ezra Miller), announces his attraction to her, but she doesn't engage. He moves off to study in the nearby town of Rouen, eventually coming to represent a sort of desired avenue of escape when her most desirable option evaporates. Her world is thrown into a tizzy upon meeting a handsome Marquise (Logan Marshall-Green), an introduction turning swiftly into a hedonistic romance eventually causing the cocksure young woman's undoing.
As the doomed Madame, Mia Wasikowska is indeed an inspired successor for the role, even if her own filmography (namely her appearance as Jane Eyre in Cary Fukunaga's 2011 remake of that classic novel) potentially lumps this into easy comparison. She's slightly more age appropriate, in her early twenties still when previous actresses such as Frances O'Connor, (the very unbelievable) Jennifer Jones, and Isabelle Huppert were all several years older during their performances. The best Emma Bovary still happens to be Huppert, an actress whose command of complicated facial expressions Wasikowska at least compares to. In fact, her best moments here are in the pregnant, brooding silences, wherein close-ups are utilized between these socially constricted characters. It is the English language dialogue sometimes sounding stiff on her lips (though not as distractingly as from Ezra Miller) that tends to mark Barthes' version as passable during key moments (and makes one yearn for a new French version starring someone like Anais Demoustier).
As characters reveal their true natures, discovering what we've known about the substance-less Emma all along, the film picks up a bit of unexpected dramatic impact, and all without the use of a child, a character cut neatly out of Barthes' adaptation. Though Ezra Miller doesn't quite fit, Logan Marshall-Green surprises, and an increasingly maleficent Rhys Ifans builds a modulated performance into an effective, angry snarl. But it is slow going, perhaps due to Barthes' skipping through Emma's set-up and into her stale marriage. We don't really get to examine her motives for marrying the country doctor, as she was using the union as a ploy to escape the life she was brought up in.
In the larger picture, Barthes, whose 2009 debut film Cold Souls (she brings star Paul Giamatti back for a supporting role here) first displayed her playful, intelligent, and unique interaction with literary expectations, makes an adept version of a notoriously difficult novel to film. In the years since Flaubert's novel was published, time seems to have eroded his name from association with his most famous character (at least outside of France). Evidence of her iconicity exists in her engagement with modern texts, cinematic and otherwise, including via homage in Todd Field's Little Children (2006) and as modernized shtick in Anne Fontaine's Gemma Bovary (2014).
Barthes tries to highlight different elements here, leaving behind the importance afforded the invitation to a dance instead replaced by a rather effective hunting metaphor, wherein Emma witness Marshall-Green's Marquis kill his prey. As lensed by Andrij Parekh, the film's strength lies in these visual reflections of Emma's naivety, affording us a representation of her obsession with escaping from this humdrum life, a woman in love with love, but only as it relates to herself.
★★★/☆☆☆☆☆