Sing the Body Electric: Huppert Glows in Bozon's Eccentric Take on Robert Louis Stevenson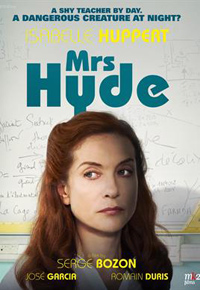 "Things one can't do are the one I want to," utters a mournful Frederic March as the eponymous Dr. Jekyll in Rouben Mamoulian's pre-code 1932 production of Robert Louis Stevenson's famed novella The Strange Case of Dr. Jekyll and Mr. Hyde. The classic 1886 text has been adapted for the cinema countless times, a fascinating example of the eternal struggle between the id and ego of the good doctor and his lascivious alternate personality, both immortal fixtures in the pop culture zeitgeist. But outside of something as atypical a treatment as Walerian Borowczyk's 1981 The Strange Case of Dr. Jekyll and Miss Osbourne, no one has managed something as idiosyncratic as Serge Bozon's Mrs. Hyde, reuniting the eccentric auteur with his Tip Top (read review) star Isabelle Huppert (who took home a Best Actress prize at the 2017 Locarno Film Festival).
Bozon, who has a penchant for highly exaggerated performances infecting and informing the procedural banality of familiar genres and narratives, presents another catawampus version of modern day France which seems to serve as a metaphor for a greater disconnect between old and new, teacher and student, traditional and modern, and the miscommunication and ignorance which often interrupts their integration.
Bozon's continuation with Huppert should be immediate reason to seek out Madame Hyde, who turns the performer's austere reputation on its head by casting her as the meek Marie Gequil, an ineffectual professor of a technical program for electricians. Gequil is the opposite of the icy, masochistic instructor Huppert famously portrayed in 2001's The Piano Teacher, a woman perhaps equally disliked but at least able to demand respect (as she was in last year's Things to Come, portraying a revered philosophy teacher). Not so for poor Mrs. Gequil, who even after three decades of teaching can barely make it through a lesson without the kids mimicking, demeaning, or interrupting her.
Since most of the teenagers are from working class backgrounds, this further alienates her (they often make fun of her speech patterns and pronunciation), and perhaps explains why she won't allow any of them to operate the machinery since she can't control them. She does, however, hold an affinity for Malik (Adda Senani), a student with a pronounced birth defect requiring a walker. After she's struck by lightning in her private laboratory, which she operates off school grounds, part of her personality shift allows her to open to Malik and foster his interests in electricity.
Of course, what everybody's waiting for is Gequil's new alter ego to arrive, the eponymous Madame Hyde. While her daytime persona has become subtly revivified by her lightning bolt, at night, she awakens with a radioactive glow from head to toe and sleepwalks her way into some eventual tragic scenarios. Her husband (Jose Garcia), who seems more intent on concocting lavish cuisines, which his wife has no interest in consuming, is convinced she's having an affair.
While Bozon, and his partner/co-writer Axelle Ropert seem tangentially interested in the bizarre marital issues of his main character once again (although not to the outlandish extent of Tip Top), Mrs. Hyde gets most of its offbeat comedy from Huppert's interactions with her class and the strangely competitive high-school principal (a preening, deliciously over-the-top Romain Duris) than as the beautifully eerie Hyde.
Daring to defy the specified limitations of the technical school's protocol, Huppert enters her class into a talent contest by having them develop their own Faraday cage (itself a metaphor for a system which has allowed Mrs. Gequil to remain completely ineffectual), in a move which recalls the ludicrousness of Strangers with Candy (2005). But there is no dramatic personality shift from Gequil to Hyde, in the traditional sense of this transformation's trajectory (not even a winking aside to Klaus Nomi covering "Lightning Strikes"), which serves as a testament to Bozon's original mutation of this material.
Once more, pronouncedly unmoored from traditional formulations of drama, comedy, or political context, Bozon delivers another example of his highly distinctive universe, and allows Huppert free reign, who seems to revel in playing a character who veers from neutralized to, well, radioactive.
Reviewed on September 29th at the 2017 New York Film Festival. 95 Mins.
★★★½/☆☆☆☆☆