Backstabbing for Beginners | Review
The Oil and the Pussycat: Fly's English Debut Sinks to the Bottom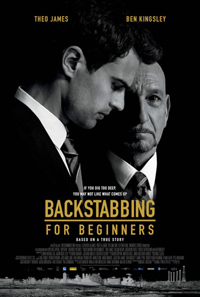 Danish director Per Fly makes his English language debut with Backstabbing for Beginners, a US/Canadian/Danish co-production based on the memoirs of Michael Soussan and featuring a handsome, if sometimes ill-fitting international cast attempting to convey something more important than what transpires here. Before diving in, it might help to have a comprehensive, or at least working knowledge of certain historical instances involving the corruption of government, the United Nations, and the Oil-for-Food program in Iraq, which blossomed in the late 1990s following the defeat of Saddam Hussein in Kuwait and ballooned into a high-reaching political scandal by 2003.
Fly approaches this material like a John Grisham styled bit of government corruption, focusing on the innocent novice whose naivete leads him into clandestine affairs populated with men hungry for naive scapegoats who are oblivious to red flags. However, considering the current state of political affairs in the United States, Fly's long-gestating new feature arrives from a troubled past which seems manageable by comparison, like a 1940s melodrama about valiant heroes unaware of what Adolf Hitler was up to.
Twenty-four-year-old Michael Sullivan (Theo James) is somewhat of a greenhorn when it comes to foreign service, yet his father's exceptional reputation as a diplomat has inspired him to follow the same path. But when he's selected as an assistant to Pasha (Ben Kingsley), currently in charge of the Oil-for-Food program, designed to help profits from Iraq's oil to feed the starving population, he seems primed for a similar legacy. While Pasha warns of the high-level corruption and profiteering going on behind the scenes of the program, which has forced him to lie about the benefits of the program to the U.N. Security Council, he affirms what they're doing is for the greater good.
Fly's film is a fictionalized account of Soussan's memoir, which is strange considering the lack of exaggeration which would have been required to make Backstabbing for Beginners remotely thrilling—the scenario seems as if it might have been more fascinating as a documentary. Additionally, Fly, who is perhaps best known in the US for his The Celebration styled 2003 drama The Inheritance, which also featured Ulrich Thomsen, seems more fascinated with broken, emotionally troubled protagonists, such as the alcoholic Jesper Christensen character in 2000's The Bench, or Fly's last film, the 2013 biopic Monica Z, a focus on Swedish jazz singer Monica Zetterlund (which didn't receive US distribution).
At the center of Backstabbing is the emotional void employed by Theo James, who has heretofore been best successfully utilized in cinema as a villain (or, more famously as the peripheral brooding love interest from the failed Divergent franchise). A forced relationship with Nashim (Belcim Bilgin), a Kurd who survived Saddam's attacks on her people and has since wheedled her way into U.N. affairs, seems to be an attempt to add some good old noir spice. But instead of playing with her duality, she seems plopped into this narrative purely for a requisite lovemaking sequence.
Kingsley is equally wasted as James' sinister boss, Pasha, who yields secrets which are hardly a surprise given a script which forced us to be immediately suspicious of all the characters from their entry, who are in turn portrayed by equally dubious actors. The elegant Jacqueline Bisset shows up to display how stereotypically French she can be (though her antagonizing of Kingsley at least adds a little punch to an otherwise monotonous extravaganza of backroom posturing) as a finger-pointing cohort of the Oil-for-Food program, but at the end of the day, Backstabbing for Beginners doesn't convey the complexities of this scandal nor the troubled, compromised humanity of its characters.
★★/☆☆☆☆☆