Little Drummer Boy: Montiel's Misguided and Manipulative PTSD Allegory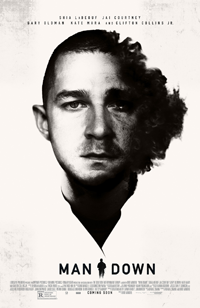 Since his autobiographical 2006 debut A Guide to Recognizing Your Saints, director Dito Montiel has been able to acquire impressive casts for his often problematic but sometimes compelling examinations of fractured masculine psyches. Here he reunites with Shia LaBeouf, who served as the director's proxy in his debut, for his latest, Man Down, a PTSD melodrama concerning an anguished US veteran struggling to cope in the aftermath of a traumatic event during combat. Considering his lead actor's penchant for intensity, this seems like a logical reunion, and the level of commitment to an honorable subject matter is never in question. However, writer Adam G. Simon's emotionally belabored narrative, which heaps clichéd banalities concerning guilt and betrayal on its beleaguered protagonist, plays like an exploitational minefield. Foregoing subtlety, an ungainly grand reveal, which is neither savvy nor a surprise, detracts from whatever worthwhile intentions Montiel intended regarding the experiences of war veterans abroad and at home, something further aggravated by meager genre dressing of a post-apocalyptic America cheaply administered with garish CGI.
US Marine Gabriel Drummer's (Shia LaBeouf) life is shattered following a traumatic incident in Afghanistan. At the same time, conflict in the Middle East seems to have made its way to American's shores, decimating life as we know it. Struggling to relocate his wife (Kate Mara) and son (Charlie Shotwell) alongside his lifelong best friend and fellow Marine, Devin (Jai Courtney), the narrative is split in three distinct segments, which includes life before deployment and during an extensive psych-evaluation with Captain Peyton (Gary Oldman).
While Montiel is perhaps best known or revered for his 2006 debut, the director continues to allow his subjects to be overwhelmed by awkward visual artifice, elements which play like remnants of what inspired his interest in the first place but should have been excised. If scrappy character asides breaking the fourth wall felt creative in Guide, problematic editing overwhelmed 2011's The Son of No One (his third title to feature Channing Tatum), while a total lack of interest seemed to plague Direct-to-DVD feature Empire State (2013). Arguably, Montiel's most interesting (and low-key) character study to date is 2014's Boulevard, featuring the late Robin Williams as a closeted gay man coming to terms with his sexuality despite the protestations of his wife (a stellar Kathy Baker). Throughout his filmography, Montiel seems determined to capture masculine personas dismantled by their own rudimentary conditioning of what life's supposed to look like. His latest film premiered in the Horizons sidebar at the 2015 Venice Film Festival, and it is potentially one of his greatest failures because intentions of subversion are continually thwarted by subpar storytelling.
With Man Down, following the jarring, harshly lit opening sequence, Montiel plays with three time periods, the first being the picaresque, Apple-pie glow afforded white, suburban middle class folks who follow each other through familiar life trajectories. Montiel delivers his preferred juxtaposition of male leads, with LaBeouf's milder mannered lead butted up against an alpha male bestie, with Tatum's duties this time assigned to Jai Courtney. Their closeness supersedes Drummer's relationship with his wife (Kate Mara as merely a spousal spectral waif), and Devin's lack of contact with Natalie in establishing sequences says a lot without saying anything at all. Character actors like Tory Kittles and the great Clifton Collins Jr. show up to portray place markers on the masculinity spectrum, perpetrator and victim on Gabriel's timeline. Gary Oldman is wasted, a character representative of a gimmicky device whose sequences purposefully withhold or delay information for ultimate emotional impact.
LaBeouf's characterization is a close cousin to the likes we've seen in Andrea Arnold's American Honey (2016) or David Ayer's Fury (2014), but his character's complexities are underlined by the staunch artificiality of the narrative, as well as the visual design. Thus, whatever commendations LaBeouf should or could be afforded disappear into silly ether. DP Shelly Long has the unfortunate task of framing the kookiness of the post-apocalyptic threads with the picket fences mentality of Gabriel's life before wartime, with middling success.
Man Down, despite a score from Clint Mansell, looks about as distracting and unbelievable as it sounds. What's unfortunate is how the film's complex themes, (including a sequence directly referencing the title, which collapses military terminology regarding the maiming of a soldier with a coded expression of affection between men not allowed to display emotion in public), become casualties of the film's ultimate ineptitude. In many ways this recalls something like Adrian Lyne's exceptional 1990 post-Vietnam PTSD horror film Jacob's Ladder, but minus the cerebral depths (some dalliances with Camus, no less) and haunting emotional performances.
★/☆☆☆☆☆