Tai Me Up Tai Me Down: Reeves' Directorial Debut a B Grade Vanity Project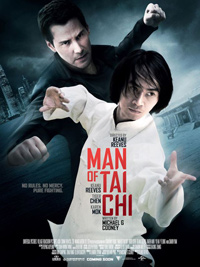 Keanu Reeves. Hardly as woeful as you might assume, the directorial debut of The Matrix star is capably entertaining, especially if you don't mind watching an ornate video game. However, his Man of Tai Chi, which was developed as a project to grandstand the martial arts talents of its star, Tiger Chen, has little to offer outside of slickly repetitive fight sequences. Reeves' insistence on casting himself as an omnipotent baddie swerves the film into high gear camp akin to Street Fighter: The Legend of Chun Li (2009), and one wishes the star had taken on the less glamorous role of producer and perhaps hired a re-write of a script penned by Michael G. Cooney, whose writing credits consist mainly of dialogue for video games.
A lowly courier by day in Beijing, Tiger Chen Lin-Hu (Tiger Chen), is making a name for himself as a young martial arts star by night as a representative of the Ling Kong Tai Chi tradition. Tiger's technique is to use Tai Chi, generally considered an exercise technique consisting of peaceful, yoga-like movement, as a powerful combative tool. While he makes a name for himself in the Wulin Wang martial arts championship, a tenacious police investigator for Hong Kong's organized crime unit OCTB, Suen Jing-Si (Karen Mok) is in hot pursuit of powerful businessman Donaka Mark (Reeves), who runs a secret underground fighting ring where rich patrons pay to see opponents fight to the death. While Donaka lures Tiger into his snare by threatening redevelopment to Tiger's sacred temple, Suen tries to appeal to Tiger to work undercover and take down Donaka's illegal ring.
There's nary a moment in Man of Tai Chi that doesn't feel monotonously predictable, even as we breeze into one expertly choreographed fight sequence to another. The slick look and feel of the film (despite a CGI dependent car crash sequence that looks positively cartoonish) is due entirely to the technical skills of film editor Derek Hui and cinematographer Elliott Davis, who create a meld of arresting visuals unfortunately somewhat reduced by the pulsing, squirming soundtrack. While the film's silly elements make Man of Tai Chi more compulsively watchable than something like Ong Bak, the positively uninteresting Tiger Chen (playing Tiger Chen) is certainly not at the level of even Tony Jaa as far as screen presence is concerned, whose courier scenes resemble a lobotomized version of Premium Rush (2012).
While Karen Mok makes for an arresting presence here, she's certainly better than this material permits her to be. But the tepid nadir at the center of Man of Tai Chi is a resoundingly preposterous performance from Reeves himself, who gravitates incongruously from wooden to over-the-top, which culminates in an awkward final sequence between two banal screen characters. The worst aspect of all this is that the film's more exciting showdown, between Chen and Iko Uwais of The Raid (2011), is supposedly aborted for this less than satisfactory equivalent. Fans of martial arts flicks, despite some choice sequences, will most likely be disappointed.