Days Go By: Clark Returns to Apathetic Adolescence for Latest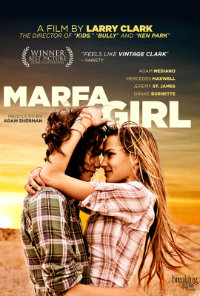 After having won the top prize at the 2012 Rome Film Festival, controversial filmmaker Larry Clark's Marfa Girl was available for streaming directly from his official website. Now, nearly three years later, Breaking Glass Pictures is distributing the title in limited theatrical release. For those familiar with Clark's work, the title doesn't feel like anything new from the director, navigating a milieu of loosely connected adolescents and the peripheral adults in their environment as they conquer their all-consuming boredom with illicit drugs and promiscuity. The customarily blatant yet generally believable crude conversations revolving around sexuality present in all of Clark's work is full force here.
Seeing as this is the filmmaker's first feature in seven years, following 2005's Wassup Rockers (though it should be noted a 2014 title The Smell of Us premiered in last fall's Venice Days and is currently without US distribution), it's a pleasure to see Clark back in action. The territory may be familiar, and the title seems to have served as a resurgence in Clark's cinematic presence, but his faux documentary snapshot of rural malaise on the north side of a border town manages to impress.
Adam (Adam Mediano) is a skateboarding teenager about to turn sixteen years of age. He tends to stay out past curfew and an antagonizing Border Patrol agent (Jeremy St. John) seems to have it out for Adam, though this may be because he wants to get the attention of Adam's mother (Mary Farley). Meanwhile, Adam is also having plenty of sex with his girlfriend (Mercedes Maxwell), and secretly with another girl (Indigo Rael), and the presence of a new art student (Drake Burnette), the titular female, also piques his interest.
Initially a photographer before directing his 1995 debut, Kids, which stills stands as his most notorious title (and launched the career of his screenwriter, Harmony Korine), Clark still seems obsessed with documenting the experiences of adolescent skateboarders. While Ken Park and Wassup Rockers dealt with Southern California skater kids (and The Smell of Us has Clark documenting similar subject matter in France), Marfa Girl opens with feet on a skateboard, belonging to Adam, who is, more or less, the main character. But the film isn't really concerned with any one person in particular, but rather the suffocating environment of this particular dustbin, where adults are unhappily stuck and youngster's dream of getting out as soon as they're able.
Adam Mediano isn't particularly arresting, but serves as an average composite of what the heterosexual rural teen might seem like. His best scenes happen to be shared with the titular girl, an art intern with privileged pretensions eager to school Adam and every other male ignoramus on why girls should be able to have just as much sex as guys and without the social stigma that follows. As played by Drake Burnette, the character sometimes seems wooden, and more prone to shock value than representative of a real character. Other peripheral personalities seem more arresting, such as Adam's mother played by Mary Farley, and her weird scene with a local mystic about the love of their dead pets. "We shared several past lives," one says of her dead animal, "some really traumatic ones." But then others, such as the very strange and very pregnant teacher played by Lindsay Jones, give stilted performances.
This all crashes into a rather strangely over-the-top instance wherein the intensely bizarre antics of the extremely psychologically unbalanced Border Patrol agent played by Jeremy St. James boils over into something you'd expect to see in a thriller. Violent and swift, many seem to have criticized the finale as feeling tacked on, especially for audiences that are annoyed when filmmakers throw curve balls and shake things up. This isn't the kind of dramatic shift that graces Sebastian Silva's superb Nasty Baby, as it doesn't necessarily come out of left field, only it's the type of strangeness that people love to point out as discordant (as if instances from everyday life aren't just that).
★★★/☆☆☆☆☆